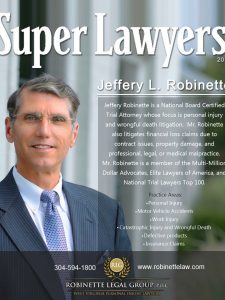 Biographical Information
Jeffery Robinette is a West Virginia personal injury lawyer who represents individuals who have been seriously injured or killed due to the irresponsible acts of an individual or company or have suffered financial losses due to property damage or professional malpractice. Gas rig injuries, pipeline explosions, wrongful death, medical malpractice, truck accidents, and auto collisions are his major areas of practice.
Mr. Robinette is an Army veteran, having served as an Intelligence Officer and Jump Master for the 82nd Airborne Division prior to attending the WVU College of Law.
After admittance to the WV bar in 1991, Mr. Robinette achieved partnership in one of West Virginia's largest firms, and then in 1999 founded Robinette Law Offices which later became Robinette Legal Group, PLLC, based in Morgantown.
As a National Board Certified Trial Attorney who has handled hundreds of motor vehicle, injury, and construction defect claims and a leading author on insurance claims settlement issues and difficulties in West Virginia, Jeff Robinette is uniquely qualified to represent your best interest.  This National Board Certification is a designation reached by only 3% of lawyers nationwide.
Respect, compassion, and integrity is his guarantee to our clients, along with attention to detail and hard work.
Mr. Robinette has focused his law practice on defending serious and catastrophic injury claims, and had countless opportunities to gain inside knowledge of the operations and dangers of coal mine injuries, power plants, and other industrial sites. Jeff Robinette has litigated and tried numerous and varied civil cases, including serious personal injury and wrongful death cases.
He now devotes his entire law practice to representing injury victims with a focus on catastrophic injury claims. Attorney Robinette has handled hundreds of serious and catastrophic injury claims caused by motor vehicle collisions and unsafe work environments, the two leading causes of serious and catastrophic injuries in the United States.
Jeffery Robinette was admitted to practice law in 1991 and is licensed in all levels of state and federal trial courts in West Virginia. Mr. Robinette is also licensed in all state and federal appeals courts in West Virginia and the United States Supreme Court.
Legal experience also includes serving as adjunct lecturer on appellate advocacy at West Virginia University College of Law.  Jeff Robinette is also a trained mediator and have completed the basic and advanced mediation training sponsored by the West Virginia State Bar.
Mr. Robinette's publishing accomplishments include serving as editor and a contributing author of the West Virginia Law Review, and he is a leading author on West Virginia injury victims' rights, having published three books for the purpose of assisting injured people and their families to understand their legal rights after a traumatic injury or tragic, unexpected death.
Memberships include of the Multi-Million Dollar Advocates Forum and Elite Lawyers of America, whose memberships are limited to lawyers who have attained multiple, multi-million dollar recoveries for personal injury victims.
Admission Dates & Jurisdictions
Jeffery Robinette was admitted to practice law in 1991 and is licensed in all levels of state and federal trial courts in West Virginia. Mr. Robinette is also licensed in all state and federal appeals courts in West Virginia and the United States Supreme Court.
Education
Concord College, 1983, BA
West Virginia University, JD, 1991
Professional Experience
Experience
– Present (16 years 1 month)
Founder of Robinette Legal Group, PLLC and manager of all personal injury and wrongful death litigation; certified mediator with advanced training; training associate attorneys and paralegals.
– (8 years 8 months)Morgantown, WV
Insurance defense litigation

Intelligence Officer; Airborne Artillery Officer
– (2 years 7 months)Ft. Bragg, NC
Managed personel and equipment ready to deploy to contingencies world-wide; jumpmaster certified.
Honors & Awards
Honors & Awards
Nationally Recognized Board Certified Trial Attorney
American Bar Association National Legal Specialties Certification
Only 4% of practicing attorney are Board Certified by the ABA in their specialty. Those lawyers who obtain National Board of Trial Advocacy certification undergo a thorough screening of their credentials, including: documentation of their experience, judicial and peer references, an exam, and they must report all disciplinary matters brought before any official body, whether public or private, for scrutiny by the NBLSC Standards Committee.
…more
Additional Honors & Awards
Nationally Recognized Board Certified Trial Attorney
Multi-Million Dollar Advocate
Elite Lawyers of America
Best's Recommended Insurance Lawyers
National Dean's List
Singleton Fraiser Legislative Internship
West Virginia University College of Law – Law Review Editor; published article.
Nation's Top One Percent, NADC
Verdicts & Settlements
DISCLAIMER: The results are specific to the facts and legal circumstances of each of the clients' cases and should not be used to form an expectation that the same results could be obtained for other clients in similar matters without reference to the specific factual and legal circumstances of each client's case.Sago Mine Coal Mine Explosion: In 2006, the West Virginia coal fields were devastated with the largest coal mine explosion that had occurred in decades, and our law firm successfully represented the family of one of the deceased coal miners, by obtaining a substantial settlement for our client's family.Power Plant Wrongful Death: A young husband and father was performing his duties as ordered, and having been put in harms' way, was backed over by a truck and crushed. Jeff successfully represented this man's widow and small child and obtained a substantial settlement which allowed this family to begin to put back together their broken lives.Carbon Monoxide Death: A newly married couple moved into a rental property late one evening, switched on the thermostat in their new apartment, and was overcome within hours by carbon monoxide from a faulty furnace pipe. One of the parties died, and several others in the same building were taken to the hospital to be treated for extreme toxic exposure. Mr. Robinette was able to obtain for two of the families a substantial settlement which far exceeded their expectations.Car Accident Injuries: Jeff Robinette was hired by a young woman who had sustained permanent injuries to her foot due to an auto collision. The insurance company offered such a small amount, and dealt with her in such dismissive manner that the treatment of her case amounted to bad faith on the insurance company's part. Jeff was able to obtain substantial settlement which allowed this young woman and her husband to pay medical bills, buy a car and a home, and start building a future together.Crushed Leg Injury: Imagine having your leg crushed so badly in an accident that you have to undergo two surgeries to insert multiple pins and have a rod hammered into the bone just to stabilize the femur. Unfortunately, the first rod inserted into the bone didn't accomplish the desired effect, so the rod had to be removed and surgically reinserted. Imagine the great pain, the months of therapy and recovery, and the frustration knowing you can never return to the type of work you have performed for decades. Jeff Robinette was able to obtain a great enough settlement to pay this man's medical bills in their entirety and money enough to start a new business so he could work and live a productive life even with his permanent impairment.Crushed Foot Injury: While working in Morgantown, WV for a large national retailer, our client, a young woman in her early twenties, was ordered to use equipment which she was not properly trained to use. In the course of attempting to complete her task, she sustained a severe crush injury to her foot. Due to this incident, our client lost full use of this foot for the rest of her life and was living with chronic, persistent pain. Our firm was able to obtain a sizable settlement which took care of all her medical bills and future treatment for her foot injury. The settlement was ample enough to allow this young woman to go back to college and retrain for employment which will accommodate her permanent disability.Brain Injury: While timbering in WV, a heavy equipment operator sustained a permanent brain injury while performing the duties of his job. What price can you put on the loss of a fully functioning, fully reasoning brain? Jeff Robinette was able to negotiate a settlement which was annuitized to provide for this man for the rest of his life.Drunk Driver: While driving his car, our client was hit by a drunk driver which injured his shoulder so severely that three surgeries were required. The insurance company haggled over the value of the claim, initially giving a low-ball offer. Jeff Robinette was able to force the insurance company to pay all insurance available for this claim.Motorcycle Accident: A police cruiser was attempting to make a U-turn on a four lane highway and collided with our client's motorcycle. The trooper had failed to follow the rules of the road by making an unsafe or prohibited lane change and was found to have operated his vehicle in an "erratic, careless, or reckless" manner.As a result of the trooper's negligent driving, our client sustained bodily injuries which required emergency room treatment and subsequent physical therapy and prescription medication to recover from his injuries.The Robinette Legal Group, PLLC was able to recover an ample settlement to cover our client's medical bills, lost wages, and pain and suffering.

Financial Losses: A client we represented in Preston County incurred significant structural damage to a commercial building from excessive snow accumulation on the roof of that building. The insurance company offered a less than adequate amount of reimbursement which would have only partially covered the cost of repairs. Jeff Robinette was able to obtain a settlement amount which would fully compensate the building owner for the damages, lost income, and rental expenses resulting from the damage to his building.
Representative Cases
Publications
Publications
Word Association Publishers
December 2012
Free Resource for families to guide through the litigation process to gain financial compensation to help them to move forward with their lives after their tragic loss.
Word Association Publishers
September 2012
Guide for obtaining maximum compensation for injuries resulting from a vehicle crash.
Service Activities
Donor
Major donor for the new family room at the WVU children's hospital.
Donor
Empty Bowls Monongalia
Disaster and Humanitarian Relief
Empty Bowls is a county-wide fundraiser to ensure our local food banks have enough to help those in our community who are in need this winter.