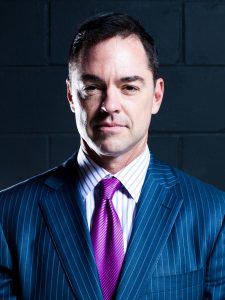 John H. Gomez
Gomez Trial Attorneys 655 West Broadway Suite 1700 San Diego, CA 92101 Practice Area(s): Personal Injury, Medical Malpractice visit website
Biographical Information
John Gomez founded the firm alone in 2005. He acts today as President and Lead Trial Attorney. From humble beginnings, he attended three separate San Diego public high schools and Grossmont Junior College before graduating from the Nation's top ranked law school, Yale University, in 1993. In between, John was named an Academic All American football player for the University of San Diego's Toreros. He clerked for a federal judge, worked for the international law firm of Latham & Watkins and served the United States as an Assistant United States Attorney until becoming a trial lawyer for people in 2000.
Since that time, he has established himself as one of California's most recognized and accomplished trial lawyers. Lawyers USA named him the national Lawyer of the Year in 2010. He has twice been named San Diego's Trial Lawyer of the Year. The Consumer Attorneys of San Diego have awarded him an unprecedented nine separate Outstanding Trial Lawyer Awards. He has been named a Top 100 California Attorney overall by the Los Angeles Daily Journal, a Top 10 San Diego attorney overall by San Diego Metropolitan Magazine, and was voted by peers as a top 10 San Diego Super Lawyer in 2012, 2013 and 2014. He was featured as the subject of the cover story in that 2012 publication.
He was voted by peers as the top attorney in San Diego for 2015 overall in polling conduct by Super Lawyers rating service. Best Lawyers in America named him the San Diego 2011 and 2012 Plaintiffs Products Liability Attorney of the Year and the 2015 Class Action and Mass Tort Attorney of the Year. Avvo rates him a 10.0 out of 10.0 and he has been voted by his peers as a top ten San Diego litigator in three separate fields: Personal Injury, Insurance and Corporate Litigation. Since 2000, he has recovered over $300 million in settlements and verdicts for his clients with more than 75 separate recoveries of one million dollars or more. Perhaps most notably, John has obtained 4 separate jury verdicts of one million dollars or more in which the defendant offered absolutely nothing to settle prior to trial. John also serves in leadership roles relating to numerous coordinated litigations involving defective drugs and medical devices. John is a proud member of the American Board of Trial Advocates.
He is as known for his work in the community as he is for his work in the courtroom. John believes that trial lawyers have an obligation to make their communities a better place – both through litigation and community service. He practices what he preaches. He commits enormous time and resources to a variety of charitable causes involving kids at risk, foster children, Latino causes, the prevention of drunk and distracted driving, local hospitals and supporting services and the March of Dimes. In recognition of his commitment to social causes, the San Diego County Bar Association recognized him with its 2012 "Community Service" award. Of all the plaques he has received, John is most proud of that one.
John is also a leader in the legal community. He is a former Board member of both the San Diego County Bar Association and the San Diego Volunteer Lawyers Program. He was elected as the 2012 President for the almost 1000 member Consumer Attorneys of San Diego.
Last but most importantly, John is the devoted husband of Lisa and the proud father of son "JD" and twins Michael and Analise. Between trials, John enjoys playing with his kids, hot yoga, fitness and golf. He lives with his family in the North County of San Diego where they regularly attend Horizon church.
Verdicts & Settlements
Over the past ten years, The Gomez Firm has collected over $250 million in verdicts and settlements with more than 50 awards of more than one million dollars each. Many of our results are actual jury verdicts because, unlike many attorneys, we actually take many of our cases to trial.
$106,000,000

WRONGFUL DEATH
JURY VERDICT

$20,000,000

PRODUCT LIABILITY CLAIMS INVOLVING DEPUY ASR HIPS
SETTLEMENT

$13,500,000

BRAIN INJURY/AUTO ACCIDENT
JURY VERDICT

$12,300,000

MILD TRAUMATIC BRAIN INJURY
JURY VERDICT

$10,800,000

BRAIN INJURY/CERVICAL FRACTURE
JURY VERDICT

$10,000,000

WRONGFUL DEATH SETTLEMENT
SETTLEMENT

$9,500,000
$8,300,000

DEPUY HIP CASE
JURY VERDICT

$7,500,000

SLIP AND FALL ACCIDENT
SETTLEMENT

$5,200,000
$5,000,000

WRONGFUL DEATH SETTLEMENT IN CASE INVOLVING BORDER PATROL
FOLLOWING TRIAL (ZERO OFFER)

$4,500,000

BRAIN INJURY/AUTO PEDESTRIAN
SETTLEMENT

$3,500,000

TOXIC EXPOSURE
SETTLEMENT

$3,000,000
$2,750,000

BRAIN INJURY/TRUCKING ACCIDENT
SETTLEMENT

$2,650,000

BORDER PATROL NEGLIGENCE IN AUTO ACCIDENT/ORTHOPEDIC INJURIES
SETTLEMENT

$2,500,000

MOTORCYCLE ACCIDENT
SETTLEMENT

$2,100,000

CIVIL RIGHTS/WRONGFUL DEATH
GROSS JURY VERDICT FOR DEATH OF A PRISONER

$1,900,000

INSURANCE BAD FAITH
JURY VERDICT

$1,700,000

AUTO ACCIDENT/ANKLE INJURY
JURY VERDICT

$1,600,000

EMOTIONAL DISTRESS ONLY
JURY VERDICT

$1,475,000

PRODUCTS LIABILITY/BACK INJURY
SETTLEMENT

$1,400,000

TOXIC EXPOSURE/RESPIRATORY PROBLEMS
SETTLEMENT

$1,400,000

TOXIC EXPOSURE/RESPIRATORY PROBLEMS
SETTLEMENT

$1,400,000

AUTO ACCIDENT/KNEE INJURY
JURY VERDICT

$1,338,000

NURSING HOME ELDER ABUSE
JURY VERDICT

$1,267,500

FINANCIAL ELDER ABUSE/REAL ESTATE FRAUD
JURY VERDICT

$1,250,000

SCHOOL SEXUAL ABUSE
JURY VERDICT

$1,000,000

DAYCARE NEGLIGENCE
SETTLEMENT

$1,000,000

SLIP AND FALL/"MILD" TRAUMATIC BRAIN INJURY
SETTLEMENT