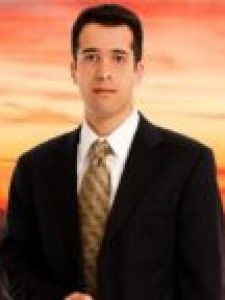 Kristopher K Rezagholi
Law Offices of Kristopher K. Rezagholi PLLC 3030 N 3rd Street STE 600 Phoenix, AZ 85012-3063 Practice Area(s): Personal Injury, Criminal Defense - DUI / DWI call (480) 306-8875 email firm@lawofficeskkr.com visit website
Biographical Information
Kristopher Rezagholi is a graduate of Arizona State University where he earned a degree in Political Science, Economics, and Philosophy.  While at Arizona State University Mr. Rezagholi was an honors student and active in many extracurricular activities.
Mr. Rezagholi then continued at Arizona State University where he earned his Law degree. Once again, Mr. Rezagholi received high academic honors and was the recipient of the Pedrick Scholar award. While in law school Mr. Rezagholi clerked for injury and criminal defense firms and Judges.
After graduating from law school, Mr. Rezagholi embarked on a brief career at the commercial litigation law firm Hudspeth & Associates. At this top civil law firm, Mr. Rezagholi worked on cases in areas of complex commercial litigation, product liability, and intellectual property law. While this work was challenging and satisfying, Mr. Rezagholi was not ultimately fulfilled. So, he returned to practice where he could use his scientific knowledge and trial skills in a unique and synergistic way to advocate for accused individuals in his community.
Mr. Rezagholi returned to the practice of DUI, Criminal Defense law and Personal Injury. Mr. Rezagholi has successfully handled hundreds of Personal Injury, DUI, and Criminal cases.  Mr. Rezagholi is an experienced and highly skilled attorney dedicated to providing the finest representation to anyone injured or accused of a DUI or Criminal offense.
It is important to note that Mr. Rezagholi's solid foundation of analytical skills enables him to analyze and evaluate the many scientific details of accident reconstruction, medical records, DUI and forensic criminal cases. Mr. Rezagholi has vast experience in accident reconstruction and is able to communicate on the same level as the trial experts. It is this unique insight that has helped a great many of Mr. Rezagholi's clients in cases ranging from DUI to homicide.
Most importantly, Mr. Rezagholi has a wealth of oral advocacy experience in and out of the Courtroom. Mr. Rezagholi has dealt with Judges and prosecutors across the state of Arizona behind closed doors and in open Court. Mr. Rezagholi has the highest level of experience necessary to effectively and persuasively advocate for you at every level of your case.
Admission Dates & Jurisdictions
Arizona State Bar – 2007
Federal Bar – 2009
Education
Arizona State University Sandra Day O'Connor College of Law
Juris Doctor
Pedrick Scholar
Associate Article Editor, Arizona State Law Journal
Staff Writer, Arizona State Law Journal
Law Journal Symposium Committee
Arizona State University
Bachelor of Arts
Cum Laude
Dean's List
Honors & Awards
2014 Top 40 under 40
2015 Top 100 Trial Attorney
2016 Top 100 Trial Attorney
2017 Top 100 Trial Attorney
2018 Top 100 Trial Attorney
2019 Top 100 Trial Attorney
2020 Top 100 Trial Attorney
2021 Top 100 Trial Attorney
Professional Associations
Member Arizona Attorneys for Criminal Justice
Publications
A Discussion of the Arizona Supreme Court Decisions: Warranty and Tort Law, 39 Ariz.St. L.J. 653 (2007)