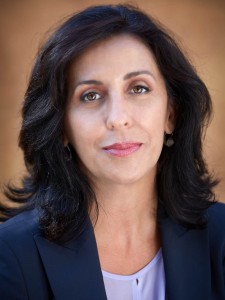 Biographical Information
Lisa Damiani was born on Long Island, New York, and raised in Buffalo, New York.  From an early age, her father, Gene, told her stories of successful attorneys and urged her to become a member of the bar.  After graduating from New York University in Manhattan with a B.A. degree, she enrolled in law school in San Diego, where she currently lives and practices law.
Admission Dates & Jurisdictions
California State Bar 1988
United States District Court Southern District of California 1989
United States District Court for the Central and Northern Districts of California 1990
Ninth Circuit Court of Appeal 1990
Education
New York University B.A. 1983
California Western School of Law J.D. 1988
Professional Experience
Lisa J. Damiani, named as a San Diego Super Lawyer since 2010, received her B.A. degree in 1983 from New York University and her J.D. degree in 1988 from California Western School of Law in San Diego, where she made Law Review. Her Comment was published in the California Western School of Law International Law Journal and she won the Richard D. Westbrook Trial Advocacy Award for her trial skills in 1988. She became a practicing member of the California Bar in 1988 and started her own law practice, focusing on criminal cases.
In 1993, McKenna & Cuneo (now McKenna, Long & Aldridge LLP), a national law firm, recruited her to join its white-collar crime practice group.  There, she continued to represent people and entities in state and federal court, charged with a variety of crimes ranging from fraud and money laundering to homicide and assault and battery.   She also became increasingly involved in civil defense work, handling employment, business, government contract and product liability class action litigation cases. Some of her corporate clients included SAIC, Kaiser Electronics, and Eon Laboratories. Her background in these areas enabled her to take on parallel civil proceedings for her clients accused of fraud and other causes of action that were linked to criminal investigations and prosecutions.
In January 2000, she left McKenna & Cuneo to start her own firm, the Damiani Law Group APC.  Ms. Damiani continued trying criminal cases and focused her civil practice on labor, employment and business litigation matters.  Ms. Damiani also consults with her employer clients on lay-offs, terminations, severance agreements, misconduct, and other employment related issues to prevent potential litigation.  Some of her corporate clients include Fresenius Medical Care Holdings, Inc., Equity Management Inc. and AP Wireless.  Many of Ms. Damiani's matters have received media attention, including People v. Judy Lynn Hayman (2014) San Diego Superior Court Case No. CD253881;  Lexin v. Superior Court (2010) 47 Cal.4th 1050 and Manduley v. Superior Court (People) (2002) 27 Cal. 4th 537.  Most recently, Ms. Damiani has been in the national media as the attorney representing the family of James Holmes.  Holmes has been charged with the movie theater killings in Aurora, Colorado, which left 12 dead and 58 others wounded.
Ms. Damiani's criminal and civil trial experience is extensive.  She has practiced in various jurisdictions, including California, Idaho and Oklahoma, the United States District Courts for the Northern, Central and Southern Districts of California, the Ninth Circuit Court of Appeals, and United States District Courts for the Districts of Colorado and Nevada.  She has tried to jury many cases in state and federal courts and has had an "AV" peer rating through Martindale-Hubbell every year since 1998, which was elevated to an AV Preeminent Rating, a testament to the fact that her peers rank her at the highest level of professional excellence, in 2010.  She was also selected to the Bar Register of Preeminent Women Lawyers in its inaugural edition in 2011 and since then.  Less than 5% of women lawyers have been recognized with an AV Preeminent Rating.  In its September 2012 issue, San Diego Attorney Journal featured Ms. Damiani as Attorney of the Month.  In its March 2013, 2014 and 2015 issues, San Diego Magazine named Ms. Damiani "Top Lawyer" in criminal defense, employment and business law.
Ms. Damiani is a Master in the American Inn of Court, William B. Enright Chapter (formerly on the Board).  She is the Past Chair of the Criminal Law Section of the Association of Trial Lawyers of America and a member of the National Association of Criminal Defense Lawyers (NACDL) and the National Employment Lawyers Association (NELA).  She has lectured on various topics for the California State Bar, the National Institute of Trial Advocacy (NITA), the National Association of Professional Employer Organizations (NAPEO), Continuing Education of the Bar (CEB) and Federal Defender's Inc.