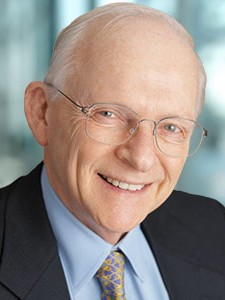 Ronald L.M. Goldman
Baum Hedlund Aristei & Goldman PC 10940 Wilshire Boulevard 17th Floor Los Angeles, CA 90024 Practice Area(s): Aviation Law, Personal Injury call (310) 207-3233 fax (310) 820-7444 email [email protected] visit website
Biographical Information
Ronald L. M. Goldman is a veteran trial lawyer, board certified by the National Board of Trial Advocacy as a Civil Trial Advocate and Civil Pretrial Practice Advocate. He is a senior partner and the senior trial attorney for Baum, Hedlund, Aristei & Goldman.  Since becoming a lawyer more than 50 years ago, Ron has handled a wide variety of sophisticated litigation at both the trial and appellate levels and he has litigated hundreds of cases involving personal injury and wrongful death related to commercial transportation liability and to drug product liability.
He is a pilot and the head of the firm's aviation disaster litigation team. Ron taught for 21 years at Pepperdine School of Law as an adjunct Law Professor, where he created and taught the course on Aviation Accident Law.  He also taught courses in Torts, Insurance Law, Legal Writing and Analysis.
In 1969 Ron handled his first aviation case and has continued handling aviation cases ever since, in accidents such as: the 1972 British European Airways crash near London; the 1978 Pacific Southwest Airlines Flight 182 / Cessna 172 Midair Collision at San Diego, California; the 1986 Aero Mexico Flight 498 / Piper Midair Collision at Cerritos, California; and the 2000 Southwest Airlines runway accident at Burbank, California.  He also handled the September 11, 2001 aviation (passenger) tort litigation in which he also served on the Plaintiffs' Executive Committee.  Since joining the firm in 2003 he has worked on all of the firm's general aviation and airline disaster cases.
He was the lead negotiator in one of the firm's most significant aviation litigation achievements.  He won, as part of the settlement in the January 8, 2003 Air Midwest Flight 5481 crash in Charlotte, NC, the agreement of the airline and maintenance company, in an organized ceremony, to deliver an unprecedented official public apology to the families for the crash.  Three years later Ron appeared in a dramatic re-enactment of the crash, its subsequent investigation and the ultimate public apology, which aired on National Geographic Television.
Ron's expertise extends far beyond aviation into many forms of commercial transportation accidents. Due to his experience with train accident cases, he was chosen as a member of the Plaintiffs' Steering Committee for the 2008 Chatsworth Metrolink train collision in California, which is the deadliest train accident in Metrolink's history. He also litigated the fatal 2012 CSX Coal Train Derailment in Ellicott City, Maryland.
Ron was involved in ground-breaking pharmaceutical litigation which helped pave the way for the drug product liability litigation lawyers are facing today. In the 1960s he was actively involved in exposing Richardson-Merrell's (later known as Marion Merrell Dow) cholesterol-lowering drug, MER/29 (triparanol), which was blamed for severe side effects and birth defects. The company was ultimately indicted for supplying the FDA with falsified information about the drug.
As lead trial counsel, Ron won one of the largest verdicts of its type in Ohio's history in December of 2006. The case concerned an unmarried person who died in a Tyson Foods truck crash.  The case, Brumfield v. Tyson Foods, Inc., N.D. Ohio Case No. 1:05CV847, before Judge Donald C. Nugent, resulted in a jury verdict of $7,028,687.
Ron Goldman has appeared in the media more than 2,000 times concerning aviation accidents and pharmaceutical drug product liability, including safety oversight issues. Numerous media have sought Ron's expert opinion as a pilot and former adjunct aviation accident law professor concerning airline accidents in the U.S. and abroad as well as regarding runway incursions at LAX.
Ron received his B.S.L. in 1960 and his law degree in 1962, both from the University of Southern California.
Admission Dates & Jurisdictions
California, 1963
U.S. District Court, Central District of California, 1963
U.S. Court of Appeals, Tenth Circuit, 1970
U.S. Supreme Court, 1971
United Kingdom, Court of Inquiry, 1972 (Investigating crash of British European Airways Trident jet in June 1972, London, England)
U.S. Court of Appeals, Ninth Circuit, 1973
United States Court of Federal Claims, 1974
U.S. District Court, Eastern District of New York, 1975
U.S. Court of Appeals, Second Circuit, 1977
District of Columbia, 1979
U.S. Court of Appeals, Sixth Circuit, 1982
U.S. District Court, Northern District of California, 1983
U.S. District Court, Northern District of Illinois, 2006
U.S. District Court, Eastern District of California, 2006
U.S. Court of Appeals, Seventh Circuit, 2006
U.S. District Court, Central District of Illinois, 2008
U.S. Court of Appeals, Third Circuit, 2008
U.S. District Court, Western District of New York, 2009
U.S. District Court, Eastern District of Wisconsin, 2009
U.S. District Court, Eastern District of Michigan, 2012
Education
University of Southern California (B.S.L., 1960)
University of Southern California (J.D., 1962)
Private Pilot License, USA (1980)
Certified
Professional Experience
Leadership Member, Ad hoc, Asiana Airlines Flight OZ214 litigation, MDL-2497, in re Air Crash at San Francisco, on July 6, 2013
Plaintiffs' Executive Committee, MDL-2085, In Re: Air Crash near Clarence Center, New York, on February 12, 2009 (Colgan Air dba Continental Connection)
Plaintiffs' Steering Committee, MDL-1967 In Re: Bisphenol-A (BPA) Polycarbonate Plastic Products Liability Litigation, 2009
Leadership Group, East Coast Jets, Owatonna, Minnesota, July 31, 2008
Plaintiffs' Steering Committee Member, Chatsworth Metrolink Collision Cases, Chatsworth, California, 2008
Plaintiffs' Steering Committee, MDL-1953, Heparin Products Liability Litigation
Lead Trial Counsel, 2006; 2004 Tyson Foods truck crash near Crestline, Ohio
Lead Trial Counsel, 2006; 1998 Bell Helicopter crash in Los Angeles, California
Member, Lead Trial Counsel, Plaintiffs' Steering Committee, MDL-1574, Paxil Products Liability Litigation
Plaintiffs' Executive Committee, September 11, 2001 Tort Litigation
Co-Lead Plaintiffs' Counsel for the Coordinated Discovery Cases, Southwest Airlines Flight 1455 accident, Burbank, California, 2000
Professional Associations
State Bar of California
District of Columbia Bar
National Board of Trial Advocacy
American Association for Justice: Leader's Forum; Aviation Law Section; Heparin Litigation Group; Medtronic InFUSE® Litigation Group; Qui Tam Litigation Group; Section on Toxic, Environmental, and Pharmaceutical Torts (STEP)
American Bar Association: The Forum on Air and Space Law; Litigation Section and Tort Trial & Insurance Practice Section
Consumer Attorneys of California
Consumer Attorneys Association of Los Angeles
Lawyer-Pilots Bar Association
International Bar Association, Aviation Law Committee
Legal Expert Witness, Westlaw Round Table Group, 2012
Life Member, Ostriches Anonymous Association (OAA), Promoting Aviation Safety and Risk Awareness
Aircraft Owners & Pilots Association
Public Justice
World Jurist Association of the World Peace Through Law Center
Founding Member, World Association of Law Professors of the World Peace Through Law Center
Press
TV
ANN News TV Asahi Tokyo, Japan
Buffalo News: WGRZ, WIBV, WKBW
CBS local news Philadelphia, Maryland, Miami
Charlotte News: WCNC TV, WSOCTV
Discovery Channel
Fox Business News, Fox Business Happy Hour
Fox News Channel , Your World with Neil Cavuto
KCBS News Los Angeles
KNBC Ch. 4 News Los Angeles
National Geographic Channel
NBC Chicago
Reelz Channel
Documentaries
Docudrama: "Dead Weight," aired on National Geographic Channel, "Air Crash Investigation" series and "May Day Series" on Discovery Channel Canada
Radio
AP Radio- Associated Press Radio
BBC Radio World Today
BBC World Service
Dr. Carole's Couch, Carole Lieberman, M.D.
KTAR AM Radio Phoenix, Drive Home with Preston Westmoreland
WBEN Radio Buffalo News Talk 930 AM
WBFO Radio Buffalo
WNED-AM 970 NEWS
News
AFX News Limited AFX – Asia
AIDS Weekly & Law
AIN Aviation International News
Air Safety Week
Andrews Litigation Reporters
Associated Press
Baltimore Sun
Bloomberg News
BNA (Bureau of National Affairs, Inc.)
Charlotte Observer
Chicago Tribune
Cincinnati Post
Dallas Morning News
Dow Jones Newswires
Duke Law Journal, Thirty-Ninth Annual Administrative Law Issue
FDA News: Devices & Diagnostics Letter
Ft. Worth Star Telegram
Guardian Limited
Houston Chronicle
Kansas City Star
La Opinion
Los Angeles Daily Journal
Los Angeles Times
Law 360
Law.com
Lawyers USA
Life Science Weekly via NewsRx.com & NewsRx.net
Mealey's Emerging Drugs & Devices
Mealey's Litigation Report Antidepressant Drugs
MSN Money
National Law Journal
New Jersey Star Ledger
Newsday (New York)
Ottawa Citizen
Pharmalot
Philadelphia Inquirer
Rotorhub.com
RotorPad
Sacramento Bee
San Diego Union Tribune
San Jose Mercury News
Seattle Times
St. Louis Post Dispatch
St. Paul Pioneer Press
Star Tribune
The Korea Times
The Pink Sheet
The Times Picayune
Westlaw Journals
Wired News
Representative Cases
Selke v. Germanwings GmbH, 261 F. Supp. 3d 645 (E.D. Va. 2017) (Virginia court had personal jurisdiction over a German airline, involving Germanwings Flight 9525 from Barcelona, Spain to Düsseldorf, Germany, whose pilot committed suicide by crashing the plane into the French Alps and killing all 150 on board, because the airline sold its tickets to passengers that resided in Virginia through its authorized agent, United Airlines)
Tucker v. SmithKline Beecham Corp., 701 F.Supp.2d 1040 (S.D.Ind.2010) (denying defendant's learned intermediary defense and further allowing plaintiffs' experts to testify regarding the causal association between antidepressants and increased suicidal behavior)
Collins v. SmithKline Beecham Corp., 2008 WL 744070 (Pa. Ct.Com.Pl. March 11, 2008)
Knipe v. SmithKline Beecham, 583 F.Supp.2d 602 (E.D.Pa. 2008) (holding that a drug manufacturer owes a duty to warn regarding risks associated with off-label uses and allowing plaintiffs' claims for compensatory and  punitive damages to proceed to the jury)
Knipe v.SmithKline Beecham, 583 F.Supp.2d 553 (E.D.Pa 2008) (holding that plaintiffs' claims are not preempted by federal law)
Tucker v. SmithKline Beecham Corp., 596 F.Supp.2d 1225 (S.D.Ind. 2008) (granting plaintiff's motion for reconsideration and holding that plaintiff's claims are not preempted by federal law)
McCoy v. Southwest Airlines Co., Inc. 208 F.R.D. 617 (C.D.Cal. 2002)
McCoy v. Southwest Airlines Co., Inc. 211 F.R.D. 381 (C.D.Cal., 2002)
Brooks vs. St. Mary's Hospital 57 C.A.4th 241, 66 C.R.2d 820 (1997) [Preemption Doctrine/Constitutional Law] [Case settled pending re-hearing; depublished]
In Re Aircrash Disaster Near Cerritos, DiCosta vs. Aeronaves de Mexico, SA 973 F.2d 1490 (9th Cir. 1992) [Emotional Distress]
Gradus vs. Hanson Aviation 158 C.A.3d 1038, 205 C.R. 211 (1984) [Duty of common carrier (see BAJI 6.51); Fed. Avi. Regs., Part 135, Res Ipsa Loquitur, Negligence] [Closing argument published by Million Dollar Verdicts by Western Masters]
Harris Corp. vs. Comair 712 F.2d 1069 (6th Cir. 1983) [Right of employer to collect for death of employee; Avi. Accid. Law; Conflict of laws, Negligence]
Sevilla vs. Stearns-Roger, Inc. 101 C.A.3d 608, 161 C.R. 700 (1980) [Product Liability]
Flashman v. Superior Court (Pacific Southwest Airlines) 107 Cal.App.3d 117, 165 Cal.Rptr. 680, Cal.App. 4 Dist. (1980) [Coordination and venue]
La Pietra vs. Freed 87 C.A.3d 384, 151 C.R. 554 (1979) [Arbitration]
Cable vs. Sahara Tahoe Corp. 93 C.A.3d 1025, 155 C.R. 770 (1979) [Conflict of laws]
Benjamins vs. British European Airways 572 F.2d 913 (2nd Cir. 1978) [Warsaw Convention]
Baxter vs. Superior Court 19 C.3d 461, 138 C.R. 315 (1977) [Loss of consortium]
Drenzek vs. Inmont Corp. 57 C.A.3d 878, 129 C.R. 429 (1976) [Assumption of Risk]
Dassin vs. Darlene Knitwear 387 F.Supp. 958 (USDC, D.Puerto Rico–1974) [In personam jurisdiction]
Cacciaguidi v. Elliott 39 Cal.App.3d 261, 114 Cal.Rptr. 93, 39 Cal. Comp. Cases 963, Cal.App. 2 Dist. (1974)
People vs. Powell 14 C.A.3d 693, 92 C.R. 501 (1971) [Felony murder rule]
U.S.A. vs. Moore 427 F.2d 1020 (10th Cir.–1970) [Administrative Law; equitable relief, injunctions]
Speaking Engagements
Topic:  Panel Discussion on Forced Arbitration
Organization: Alliance For Justice
Event: Los Angeles Film Premiere of "Lost in the Fine Print"
Location: Beverly Hilton Hotel, Beverly Hills, California
Date: May 7, 2015
Topic: Ruminations on the Practice of Law – A 50-Year Perspective
Organization: Ventura County Trial Lawyers Association
Event: VCTLA Monthly Program
Location: Oxnard, California
Date: October 28, 2014
Topic: Paxil Litigation
Organization: HB Litigation Conferences
Event: Teleconference
Location: Teleconference
Date: November 5, 2009
Topic: OJ Simpson criminal and civil jury verdicts
Organization: Shanghai School of Social Science
Event: Lecture
Location: Shanghai, P.R.C.
Date: 1998
Topic: Special Guest Lecturer on The American Judicial System
Event: Lecture
Organization: Christchurch Polytechnic, School of Broadcasting
Location: Christchurch, New Zealand
Date: 1997
Topic: "Product Liability – Didn't Business Learn From the 'Malpractice' Crisis?"
Organization: Town Hall Los Angeles
Event: Town Hall General Luncheon, Orange County Forum
Location: Los Angeles, California
Date: November 17, 1977
Topic: Speaker and Panel Member: Aviation Law, Constitutional Law, Criminal Law, Legal Malpractice, Medical Malpractice, Personal Injury, Product Liability, Right of Privacy, Tort Law
Organization: Belli Seminars
Event: Seminars
Location: Riverside, California
Date: 1970s
Topics: Aviation Litigation, International Law
Organization: World Peace Through Law Conferences
Locations: Madrid, Manila, New York
Date: 1970s
Publications
The Largest Heist in History – Law 360, June 25, 2013
Book: U.S. Supreme Court Transcript of Record Re British European Airways, Petitioner, v. Abraham Benjamins, Etc., et al. – U.S. Supreme Court Transcript of Record with Supporting Pleadings, October 30, 2011
American Passengers Have Limited Rights in International Airline Crashes Because of a Treaty Known as the Montreal Convention – FindLaw KnowledgeBase, June 8, 2010
Regional Air Crash Inspires New Aviation Safety Legislation – Findlaw KnowledgeBase, September 23, 2009
Another Level of Justice: The Public Apology – Published in Andrews Aviation Litigation Reporter, Volume 24, Issue 5 / April 2006 by Thomson West and ATLA-Association of Trial Lawyers of America Aviation Law Section Newsletter Vol. 13, No. 3, Spring, 2006
Service Activities
Arbitrator/Mediator–Los Angeles Superior Court
Served as Chairman of the Board, and was a founder of the Family Assistance Program, a charitable, public benefit, corporation, organized to assist homeless families (originally known as the Family Assistance Program of Hollywood.)
A founder of, and general counsel for, The Women's Clinic, a free clinic providing health care needs to needy women in Los Angeles.