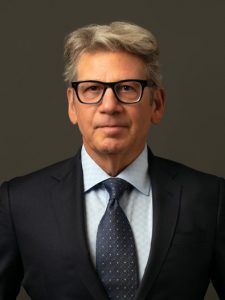 Stuart L. Finz
Finz & Finz, P.C. 410 E Jericho Tpke Mineola, NY 11501-2112 Practice Area(s): Personal Injury, Medical Malpractice call (516) 433-3000 email info@finzfirm.com visit website
Biographical Information
Stuart L. Finz is the senior trial attorney and CEO of Finz & Finz, P.C. He has earned success with his unique negotiation and courtroom skills, scoring record multi-million-dollar verdicts and complicated multi-million-dollar case settlements for his clients.
Mr. Finz oversees all aspects of the firm's litigation practice, including General Tort Liability, Medical Malpractice, Products Liability, Defective Drugs, Toxic Exposure, and Appellate Law.
Mr. Finz has been named by New York Super Lawyers as the top personal injury trial attorney for the years 2007-2020. He has been selected as a lifetime member of the Multi-Million Dollar Advocates Forum, is listed in the New York Law Journal report of Largest Verdicts, and was nominated by the leaders of the Democratic Party to run for the United States Congress in the 3rd Congressional District.
Mr. Finz obtained the first jury verdict in New York State against Philip Morris USA Inc. on behalf of a smoker who contracted lung cancer. The landmark verdict held Philip Morris USA Inc. and American Tobacco accountable for designing cigarettes to addict smokers. The record $20,520,000.00 verdict was published as a top verdict in the nation.
In addition, Mr. Finz was appointed to the New York State Plaintiffs DES Liaison Committee, where he fought for women against the manufacturers of DES, a drug that caused cancer in the offspring of women who were exposed in-utero. He co-authored Problems of a DES-Exposed Woman in Her Childbearing Years ─ Legal Implications, and has been actively involved in legal issues that affect the health and safety of the public, always seeking to advance the rights of individuals.
Mr. Finz was born in Queens, New York, and is admitted to practice law in New York State and its federal courts, including the Northern District, Southern District, and Eastern District. He is a member of the New York State Trial Lawyers Association, the Association of Trial Lawyers of America, the American Bar Association, and the Queens County and Nassau County Bar Associations. He is Vice-Chair of the Queens County Medical Malpractice Committee, and has lectured for the New York County Lawyers Association.
Mr. Finz attended Long Island University, where he graduated Cum Laude with a Bachelor of Arts. He obtained a Juris Doctor from Thomas Jefferson School of Law, where he was elected President of the law school student body and listed in "Who's Who in American Colleges and Universities."
With the ideology of "protecting victims' rights," Mr. Finz has fought hard and achieved record results for personal injury victims for over 30 years. As a staunch advocate for the seriously injured, he is dedicated to promoting public health and safety through the courts. To accomplish that continuing objective, Mr. Finz is proud to have assembled at Finz & Finz, P.C., a high-level team of extraordinarily bright, passionate and aggressive attorneys, paralegals, nurses and support staff.
When Mr. Finz is not litigating on behalf of his clients, he enjoys boating, jet skiing, motorcycles and exotic sports-cars. His fondest moments, however, are derived from spending time with his wife, children and granddaughter.
Admission Dates & Jurisdictions
New York
U.S. District Court, Eastern District of New York
U.S. District Court, Northern District of New York
U.S. District Court, Southern District of New York
Education
Thomas Jefferson School of Law (JD)
Long Island University (BA)
Honors & Awards
New York Super Lawyers, 2007-2022
The National Trial Lawyers Top 100
Lifetime Member of the Multi-Million Dollar Advocates Forum
Recognition of "Exemplary Service to the Community, Advancing the Practice of Law and Promoting Civic Unity," New York State Assembly
Proclamation for "Outstanding Service and Contributions," New York City Council
Peer Rated as "Preeminent" for the Highest Level of Professional Excellence by Martindale-Hubble
Professional Associations
New York State Trial Lawyers Association
Association of Trial Lawyers of America
American Bar Association
Queens County Bar Association
Nassau County Bar Association
Vice Chair of the Queens County Medical Malpractice Committee
New York County Lawyers Association
Verdicts & Settlements
$24,500,000 settlement in a Manhattan federal court, on behalf a child who sustained a spinal cord injury in a truck accident
$20,520,000 verdict, the first jury verdict in New York State against Philip Morris USA Inc. on behalf of a smoker who contracted lung cancer. The landmark verdict held Philip Morris USA Inc. and American Tobacco accountable for designing cigarettes to addict smokers
$14,768,000 verdict, in favor of a New York City building porter who suffered a permanent arm injury while at work
$9,750,000 settlement in a Pennsylvania state court, for a young child who suffered an intestinal tract injury due to a failure to diagnose and treat necrotizing enterocolitis (NEC)
$9,200,000 settlement against a Nassau County hospital that failed to diagnose and treat a Vitamin B1 (Thiamine) deficiency that resulted in Wernicke-Korsakoff Syndrome
$8,400,000 settlement against a New York City hospital for failing to diagnose and treat a pre-surgical infection that resulted in partial necrosis of the digestive tract and short-gut syndrome