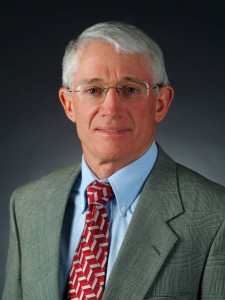 Alexander Blewett, III
Hoyt & Blewett PLLC 501 2nd Avenue North Great Falls, MT 59401 Practice Area(s): Personal Injury visit website
Biographical Information
Practice areas:
Railroad law
Federal Employers Liability Act
Personal injury
Negligence
Fraud
Products liability
Medical malpractice
Environmental law
Toxic torts
Insurance bad faith
Safe place to work
Nuisance
Admission Dates & Jurisdictions
Montana, 1971
U.S. District Court, District of Montana
U.S. Court of Appeals, 6th and 9th Circuits
U.S. Supreme Court
Education
University of Montana, J.D., 1971
Montana State University, B.S., 1967
Honors & Awards
Zander Blewett has earned an AV® Preeminent Peer Review Rating by Martindale-Hubbell™ for his professionalism and ethics.
Best Lawyers:  Lawyer of the Year 2013
Montana Trial Lawyers Association, Montana Trial Lawyer of the Year, 1993 – 1994 and 2006 – 2007
Listed in: Lawdragon 500 Leading Lawyers in America; Best Lawyers in America
Professional Associations
The Inner Circle of Advocates (Only Montana Member in National Organization)
State Bar of Montana; Montana Trial Lawyers Association
The Association of Trial Lawyers of America (Member, President's Club)
American College of Trial Lawyers
American Board of Trial Advocates (Advocate)
International Society of Barristers
Delegate, 9th Circuit Judicial Conference, 1990 – 1993
Montana State Coordinator, National Board of Trial Advocacy
Fellow, International Academy of Trial Lawyers (Montana State Chair)
Certified, Civil Trial Advocacy Specialist, National Board of Trial Advocacy, 1983
Verdicts & Settlements
The Montana personal injury and wrongful death attorneys of Hoyt & Blewett PLLC have received significant personal injury judgements in court in favor of their clients, in addition to a wide range of recoveries for clients through settlement just prior to trial, for more than 30 years. The settlements are confidential, but the judgements are public knowledge. The following are some of these significant judgements, including 18 in excess of $1,000,000.00.
    2014 Ginn v. Smurfit Stone (Brain Injury) ~ $3,970,899.56
    2008 Procopio v. Allstate (Bad Faith Claim) ~ $462,000.00
    2008 Messick/Bowman v. Patrol Helicopters (Wrongful Death)~ $2,505,000.00
    2007 Procopio v. Allstate (Auto Accident) ~ $300,000.00
    2007 Tucker v. Farmers Insurance (Wrongful Death)~ $516,000.00
    2007 Olson v. Shumaker Trucking (Construction Accident)~ $940,296.00
    2006 Rackley v. Anderson (Wrongful Death)~ $700,000.00
    2005 Oset v. Zentner (Auto Accident) ~ $204,192.80
    2005 Seltzer v. Gibson, Dunn & Crutcher (Malicious Prosecution) ~ $21,350,000.00
    2004 Gilchrist v. Cooper Construction, Inc. (Construction Accident) ~ $1,400,000.00
    2003 Woods v. BNSF (FELA Claim) ~ $969,796.78
    2002 Dorn v. BNSF (Railroad Crossing Claim)~ $7,008,000.00
    2002 Crippen v. Gliko (Auto Accident) ~ $200,141.03
    2001 Turner and Oskowski v. BNSF (Property Damage) ~ $838,500.00
    2001 Mangini v. USA & Timberline (Bicycle Accident) ~ $656,657.58
    2000 Will Lewis v. Amtrak (FELA Claim) ~ $841,500.00
    1998 Bumgarner v. Farmers Union Mutual Ins. (Auto Accident) ~ $3,202,000.00
    1997 Fred Brown v. BN (FELA Claim/Emotional Distress) ~ $200,000.00
    1997 Gliko v. Montana Power Co. (Auto Accident) ~ $227,000.00
    1996 Frederick Doty v. Campion and USA (Logging Accident) ~ $2,400,000.00
    1996 Eugene Bevacqua v. Union Pacific (FELA Claim)~ $320,000.00
    1996 Redwolf v. BN (Railroad Crossing Case) ~ $250,000,000.00
    1994 William Short v. Amtrak (FELA Claim)~ $350,000.00
    1993 David Dunkelberger v. BN (FELA Claim) ~ $450,000.00
    1993 Estate of Brockie v. Omo Construction Co. (Construction Accident) ~ $175,000.00
    1993 Tony Rogers v. Howell (Construction Accident) ~ $330,000.00
    1993 J.R. Taylor v. Wurz and Rimrock Colony (Auto Accident) ~ $1,033,470.29
    1992 Kleffner v. Pleasant Valley Colony (Nuisance Claim) ~ $500,000.00
    1992 Hughes, et al. v. USA (Fire Damage) ~ $5,000,000.00
    1992 Janssen v. BN (Pedestrian Injury) ~ $1,097,197.96
    1991 O'Leyar v. Callendar (Medical Malpractice) ~ $2,000,000.00
    1990 Counts v. BN (FELA Claim) ~ $ 430,000.00
    1990 Holmgren v. State Farm Ins. Co. (Insurance Bad Faith) ~ $ 150,000.00
    1989 Bink v. First Bank System (Wrongful Discharge/Employment) ~ $175,000.00
    1988 Finstad v. Montana Power Co. (Wrongful Discharge/Employment) ~ $ 440,000.00
    1987 Nilson v. BN (FELA Claim) ~ $ 435,000.00
    1986 Joyce Jenkins v. All Nation Ins. Co. (Insurance Bad Faith) ~ $650,000.00
    1986 Svalstad v. Glaus (Auto Accident) ~ $325,000.00
    1986 Brewington v. BN (FELA Claim) ~ $ 400,000.00
    1986 Tacke v. Fireman's Fund Ins. Co. (Insurance Bad Faith) ~ $3,500,000.00
    1985 Arla Robinson v. Hegle (Car Accident) ~ $1,400,000.00
    1983 Kenneth and Janet Herold v. BN (Railroad Crossing Case) ~ $9,790,000.00
    1983 Lawrence A. Barnes v. BN (FELA Claim) ~ $3,200,000.00
    1982 Robert W. Callihan v. BN (FELA Claim) ~ $1,031,029.00
    1982 Bergen v. BN (FELA Claim) ~ $270,000.00
    1981 Mary Marshall v. BN (Railroad Crossing Case) ~ $825,000.00
    1978 Kopische v. First Continental Corp. (Products Liability) ~ $422,500.00
    1977 Frisnegger v. Gibson (Medical Malpractice) ~ $175,000.00
    1976 Torchia v. BN (FELA Claim) ~ $580,000.00
    1975 McGee v. BN (FELA Claim) ~ $618,000.00
    1974 Farmer v. Boyles Brothers Drilling Co. (Auto Accident) ~ $1,200,000.00
    1971 Thelma Welch v. State Farm (Auto Accident) ~ $402,400.00