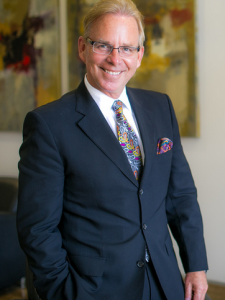 Brian D. Chase
Bisnar Chase Personal Injury Attorneys 1301 Dove St. #120 Newport Beach, CA 92660 Practice Area(s): Personal Injury, Products Liability call (949) 203-3814 email [email protected] visit website
Biographical Information
Bisnar Chase Personal Injury Attorneys has been representing injured plaintiffs since 1978. John Bisnar and Brian Chase are passionate about seeking justice and fair compensation for no-fault injury or accident victims. Our firm has been named as one of the top law practices in the nation and Brian Chase is past president of the Consumer Attorneys of California.
We represent those injured in car accidents, auto defects, (rollovers, roof crush, seat back failure, etc), serious dog bite cases, and catastrophic injuries like spinal cord and brain.  Our mission statement has never changed in over three decades.
"To provide superior client representation in a compassionate and professional manner while making our world a safer place."
Admission Dates & Jurisdictions
Professional Experience
Brian Chase has many top honors including past president of the CAOC, 2013 Top Attorney, and 2014 Trial Lawyer of the Year. For a complete list of honors and awards see below.
Honors & Awards
2019 Million Dollar Advocate
2019 Lawyer of the Year
2019 America's Top 100 Attorneys
2017 Top 1% by the Natl. Assoc. of Distinguished Counsel
2017 Top 100 High Stakes Litigator
2016 Top 10% Lawyers of Distinction
2016 SuperLawyer
2016 Best Lawyers
2015 CAOC President
2015 NADC Top One Percent Lawyers
2014, 2004 OCTLA Trial Lawyer of the Year for Products Liability OCTLA
2013 Top Attorney in O.C. Award
2012 Trial Attorney of the Year, CAOC
2012 Trial Lawyer of the Year Nominee, CAALA
2007 President of OCTLA
Professional Associations
Verdicts & Settlements
$32,698,073

– Auto defect – Seat manufacturers, Johnson Controls

$23,091,098.00

– Product liability

$16,444,904.00

– Dangerous road condition, driver negligence

$10,030,000.00

– Premises negligence

$9,800,000.00

– Motor vehicle accident

$8,500,000.00

– Motor vehicle accident – wrongful death

$8,250,000.00

– Premises liability

$7,998,073.00

– Product liability – motor vehicle accident

$5,000,000.00

– Auto Defect

$4,250,000.00

– Product Liability

$3,075,000.00

– Product defect – motor vehicle accident

$3,000,000.00

– Dangerous road design – Trolly vs. pedestrian

$3,000,000.00

– Motor vehicle accident

$2,500,000.00

– Govt. claim, product defect – motor vehicle accident

$2,600,000.00

– Auto Defect

$2,432,250.00

– Product liability – motor vehicle accident

$2,375,000.00

– On the job injury, premises liability

$2,360,000.00

– Wrongful death, commercial vehicle – motor vehicle accident

$2,250,000.00

– Auto defect – motor vehicle accident

$2,000,000.00

– Defective seatback – motor vehicle accident

$2,000,000.00

– Wage and Hour Class Action

$1,900,000.00

– Auto Defect

$1,500,000.00

– Auto Defect

$1,478,819.00

– Wage and Hour Class Action

$1,050,000.00

– Auto Defect

$900,000.00

– Product defect – motor vehicle accident

$600,000.00

– Auto defect – motor vehicle accident