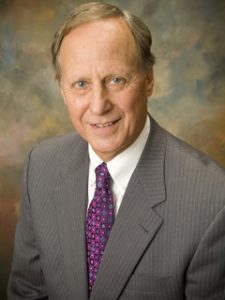 David S. Maring
Maring Williams Law Office, P.C. 1661 Capitol Way, Suite 103 LL Bismarck, ND 58501 Practice Area(s): Personal Injury visit website
Biographical Information
David S. Maring was raised on a family farm near Georgetown, Minnesota.  He received his undergraduate degree from North Dakota State University.  Dave attended the University of North Dakota School of Law and graduated, with distinction, in 1974.  While in Law School, Dave served as the Note Editor for the North Dakota Law Review.  After law school, he clerked for United States District Judge Donald D. Alsop in St. Paul, Minnesota.
Dave has been certified as a Civil Trial Specialist by the National Board of Trial Advocacy (less than 25 certified in North Dakota) and by the Minnesota State Bar Association since 1988.  He has also been selected as a Leading Litigation Attorney by Chambers USA and other organizations that rank litigation attorneys.
Chambers USA says:
"David Maring is a 'litigation machine,' commended by competitors for his formidable presence in a courtroom.  His understanding of personal injury litigation, both on the plaintiff and defendant side, is respected.  He additionally handles a steady diet of commercial litigation and professional liability claims, which combine with an evolving mediation practice."
Dave is licensed to practice in all state and federal courts in North Dakota and Minnesota, and his litigation practice areas include personal injury, wrongful death, brain injury, construction accidents, business/commercial disputes, and professional liability claims.
Dave served six years as the Eighth Circuit Representative to the United States Supreme Court Federal Rules of Evidence Advisory Committee.  He is the Chair of the North Dakota Federal Practice Committee and spent six years as a member of the North Dakota Supreme Court Disciplinary Committee.  By invitation, Dave has become a member of the International Society of Barristers (less than ten members in North Dakota) and the American College of Trial Lawyers (less than fifteen members in North Dakota).
Like the other lawyers in Maring Williams, Dave has been active in the North Dakota Bar Association serving four terms on the Board of Governors and as President of the Association.  (Link).  Dave has also been active in the Minnesota Bar Association having served as co-chair of the Professionalism Committee and as a Governor on the Civil Litigation Governing Council.  More recently, Dave served as the President of the Western States Bar Conference, a bar association comprised of 16 states in the western United States.
At age 16, Dave decided to follow in his brother's footsteps and attend law school.  In his 35+ years in practice, he has gained the most satisfaction from helping clients through difficult times and helping them resolve their legal disputes.
Dave's hobbies include basketball, golf, and hunting.  Dave and his wife live in Mandan.  They have two adult sons.  He shares time between the firm's Bismarck and Fargo offices.