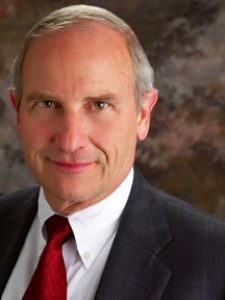 Douglas A. Baker
Atkinson, Thal & Baker P.C. 201 Third Street NW, Suite 1850 Albuquerque, NM 87102 Practice Area(s): Personal Injury visit website
Biographical Information
Mr. Baker is widely regarded as one of the top litigation attorneys in New Mexico.
Doug Baker was admitted to the N.M. Bar in 1981. An AV rated attorney, his civil litigation expertise includes commercial, product and professional liability, insurance coverage, and torts/personal injury. He has represented local to Fortune 500 Companies. Honors include membership in the American College of Trial Lawyers, Chambers USA, and Best Lawyers in America (15 years).
Born in Montclair, NJ, April of 1952.
Admission Dates & Jurisdictions
Education
He received his B.A. with high distinction from the University of Virginia (1974) and his J.D. from University of Virginia (1978).
Honors & Awards
Top 25: 2014 New Mexico Super Lawyers
Top 25: 2013 New Mexico Super Lawyers
Top 25: 2012 New Mexico Super Lawyers
Top 25: 2011 New Mexico Super Lawyers
Top 25: 2010 New Mexico Super Lawyers
Top 25: 2009 New Mexico Super Lawyers
Top 25: 2008 New Mexico Super Lawyers
Top 25: 2007 New Mexico Super Lawyers
Professional Associations
Barrister, American Inn of Court
Fellow: New Mexico Bar Foundation
State Bar of New Mexico American Bar Association (Sections of Tort and Insurance Practice; Law Practice Management)
New Mexico Defense Lawyers Association
American College of Trial Lawyers