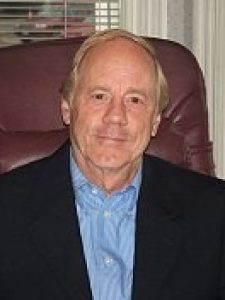 Ellsworth T. Rundlett, III
Childs, Rundlett, Fifield & Altshuler, LLC 257 Deering Avenue Portland, ME 04104 Practice Area(s): Personal Injury call (207) 773-0275 fax (207) 772-6723 visit website
Biographical Information
Ellsworth T. Rundlett III (Derry) graduated A.B. cum laude from Bowdoin College in 1968 and from the University of Maine School of Law in 1973.
Mr. Rundlett is a senior partner in the law firm of Childs, Rundlett, Fifield, & Altshuler located at 257 Deering Avenue, Portland, Maine 04103 and has over 40 years experience in the areas of personal injury law, automobile accidents, premises liability, divorce, probate, and civil litigation.
He has been certified as a Civil Trial Specialist by the National Board of Trial Advocacy since 1991.
Mr. Rundlett is the author of a book entitled "Maximizing Damages in Small Personal Injury Cases", published by the James Publishing Company in 1991, now in its 20th printing. He has also authored numerous articles including "Negotiating a Small Personal Injury Claim" published by Trial Magazine, Chapters in Insurance Settlements Handbook, and has made contributions to The Insurance Settlements Journal from 1991 to 1994. For more information visitwww.portlandmaineinjurylawyer.com.
Mr. Rundlett is a past president of the Maine Trial Lawyers Association as well as a past president of the Cumberland County Bar Association and has served on the Board of Governors of the Maine State Bar Association. He is a member of the American Trial Lawyers Association, the Maine Trial Lawyers Association and was inducted into the American Board of Trial Advocates.
He is a member of the faculty of the Maine College of Advocacy, is the subject of biographical reference in "Who's Who in American Law", and has been selected for inclusion in 'Best Lawyers in America, Consumer Guide 2001″
Mr. Rundlett has lectured throughout the country including to the Indiana Trial Lawyers Annual Institute, New Jersey Trial Lawyers, New Hampshire Trial Lawyers, and the Bi-Annual Conference of the Kansas Trial Lawyers. He is co-host of "Law on the Line" a public television show.