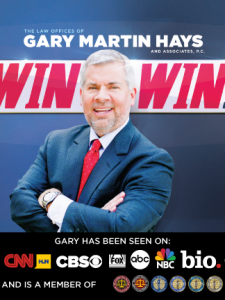 Gary Martin Hays
Law Offices of Gary Martin Hays & Associates, P.C. 3098 Breckinridge Blvd Duluth, GA 30096-4901 Practice Area(s): Personal Injury, Workers' Compensation call (770) 934-8000 fax (770) 934-1631 email gary@garymartinhays.com visit website
Biographical Information
Gary Martin Hays' legal accomplishments include being a member of the prestigious Multi-Million Dollar Advocates Forum, a society limited to those attorneys who have received a settlement or verdict of at least $2 million. He has been recognized in Atlanta Magazine as one of Georgia's top workers' compensation lawyers as voted on by other lawyers in Georgia. Gary frequently lectures to other attorneys regarding personal injury and workers' compensation claims.
He has been recognized as one of the Top 100 Trial Lawyers in Georgia since 2007 by the American Trial Lawyers' Association and recognized by Lawdragon as one of the leading Plaintiffs' Lawyers in America. He has also been recognized by the Georgia Trial Lawyers' Association for his community service efforts.
His firm specializes in cases involving personal injury, wrongful death, workers' compensation, inadequate security, and social security disability claims. His videos on Georgia Law have been watched over five million times, making him the most viewed attorney in Georgia on Facebook and YouTube. Since 1993, his firm has helped recover more than $1 billion for injured clients and their families.
Attorney Gary Martin Hays is a co-creator, legal producer, and legal commentator for Personal Injury Court. On Sunday mornings, he hosts The Intersection radio show on New Country 101.5 FM.
Education
Gary graduated from Emory University in 1986 with a B.A. degree in Political Science and a minor in Afro-American and African Studies. In 1989, he received his law degree from the Walter F. George School of Law of Mercer University, Macon, Georgia.
Press
Gary created and hosted of "The Intersection: Where Country And Faith Come Together," on WUBL (94.9 The BULL FM) and was syndicated on other iHeart stations across the southeast. The show featured country and Christian artists and he shared the stories behind their songs of faith.  He was also the host of "The Wise Counsel Project" as featured on WFSH (FISH 104.7). Gary interviewed men and women of faith and asks them to share their "wise counsel" on how we can make better decisions in our daily lives.  He has interviewed individuals such as Bret Baier (Host of Special Report on Fox News), Comedian Jeff Foxworthy, Coach Tony Dungy, Actor Kirk Cameron, Georgia Governor Nathan Deal, and Dr. Alveda King. Gary has also interviewed and been interviewed by the great Larry King at his Woodland Hills, CA studio.
He has been quoted in USA Today, The Wall Street Journal, and featured on over 250 online sites including Morningstar.com, CBS News's MoneyWatch.com, The Boston Globe, The New York Daily News, and The Miami Herald. Gary is also a 16-time best-selling author/co-author, including the #1 best-selling legal books, The Authority on Personal Injury Claims in Georgia and The Authority on Workers' Compensation Claims in Georgia.
Gary has been seen on countless television stations and shows, including Fox & Friends, CNN Headline News, ABC, CBS, NBC, and Fox affiliates and has appeared on over 110 radio stations. He also served as an executive producer of a documentary entitled "Mi Casa Hogar" in 2013, which highlighted the amazing work done by an orphanage in Acapulco, Mexico. This project earned him his second Silver Telly Award, as his first was as an executive producer for "All Are Our Heroes" in 2010, a documentary regarding cancer survivors. A documentary about Gary and his law firm, "Stand & Serve," was featured on the Biography Channel in 2014, and this project also won a Silver Telly Award.
Service Activities
Gary Martin Hays is a nationally recognized safety advocate who works tirelessly to educate our families and children on issues ranging from bullying to internet safety to abduction prevention. In 2012, he co-authored the best-selling book The Authority on Child Safety:  How to talk to your kids about their personal safety without scaring them.
Gary served on the Board of Directors of The Elizabeth Smart Foundation and has worked closely with Ed and Elizabeth Smart in promoting child safety education. Over the last 10 years, Gary has pedaled an adult sized big wheel over 500 miles to raise money and awareness for various charities. Gary has also successfully helped 65 students realize their dreams of becoming best-selling authors.
Civic Activities
Founded Keep Georgia Safe in 2008, a non-profit whose mission is to provide safety education and crime prevention training in Georgia. This organization has trained over 80 state and local law enforcement officers on how to respond in the event a child is abducted.
Gary is certified in Child Abduction Response techniques by Fox Valley Technical College and the FBI.
His firm has given away over 1,000 bicycle helmets to promote safety.
He has awarded 15 college scholarships to deserving students.
Gary has donated multiple vehicles to families in need and non-profit organizations, including handicap accessible vehicles to families with special needs.
Other Unique Endeavors
Gary has been a guest announcer on "Late Night with Jimmy Fallon." He has appeared in Nickelodeon's "See Dad Run" with Scott Baio, as well as in "Drop Dead Diva" on the A&E Network. He has performed on Broadway in "The Lion King," "Rock of Ages," and "Motown: The Musical." In 2013, Gary and two of his daughters, Ashleigh and Ava, performed with the rock group "Chicago" at the St. Augustine Amphitheatre. Gary was featured in ex-CIA Operative Valerie Plame Wilson's novel "Burned" as a CIA weapons expert from Alabama. Bill Engvall played the White House Chief of Staff in "Sharknado 3" using his full name "Gary Martin Hays."