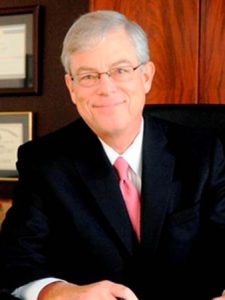 Guy Richard Cook
Grefe & Sidney, P.L.C. 500 East Court Avenue Des Moines, IA 50309 Practice Area(s): Criminal Defense - White Collar, Personal Injury call (515) 245-4300 fax (515) 245-4452 email gcook@grefesidney.com visit website
Biographical Information
Guy R. Cook has been practicing law more than 30 years. He is a double board certified trial lawyer by the National Board of Trial Advocacy. Guy has served as counsel in more than 1000 litigated matters and has tried more than 200 jury trials. He is one of only 20 Iowa attorneys to be inducted into the Million Dollar Advocates Forum for verdicts and settlements in excess of one million dollars. Guy is recognized in both The Best Lawyers in America publication and the list of Iowa Super Lawyers.
Guy has extensive and wide-ranging courtroom experience. He has successfully defended major business litigation, obtained million dollar jury verdicts, and successfully defended significant federal criminal cases. He has tried complex civil and criminal cases throughout the state of Iowa, including wrongful death, serious personal injury, products liability, securities fraud, bank fraud, medical malpractice, health care, semi truck collisions, insurance fraud, sexual assault, false arrest, dram shop, and breach of contract claims.
Guy is a graduate of the University of Iowa and Drake University Law School. He worked his way through school as a union ironworker, campus security officer, and law library assistant. While in school Guy was vice president of the Liberal Arts Student Association, resident advisor for Acacia fraternity, and worked as a legislative intern in the Iowa General Assembly. During law school he was a staff writer and researcher for the Drake Law School Legal Research Service and a prosecutor intern in the Polk County Attorney's Office.
Upon graduation from Law School, Guy served as a judicial law clerk for Justice J.L. Larson of the Iowa Supreme Court, assisting Justice Larson in researching and drafting legal opinions of the Iowa Supreme Court.
In 1983, Guy was appointed Assistant United States Attorney for the Southern District of Iowa. As a federal prosecutor, Guy tried a wide range of criminal cases, including embezzlement, bank robbery, tax fraud, murder for hire, obstruction of justice, narcotic offenses, bank fraud, and kidnapping. Among the cases he prosecuted were the largest insurance fraud in Iowa history, the then largest drug case in Iowa history, and the largest tax evasion case in Iowa history. Guy received written commendations from FBI Directors William Webster and William Sessions. He has also received commendations for his trial work in major criminal cases by the District Director of the IRS and the Resident Agent of the U.S. Secret Service.
In 1987, Guy was asked to join the Des Moines law firm of Grefe & Sidney, P.L.C. as a trial attorney. He is a senior partner practicing exclusively in the field of litigation. Guy's extensive courtroom work has taken him to courts across the state of Iowa. He has also appeared in federal courts in Iowa, Nebraska, Minnesota, Missouri and Illinois. He has been involved in nearly all types of litigation.
In addition to his work as a trial lawyer, Guy is President of the Iowa State Bar Association. Guy is past president of the Polk County Bar Association, the largest metropolitan bar in the state of Iowa. He also serves on the Board of Counselors of Drake University Law School.
Guy was elected by fellow lawyers in Iowa to serve as commissioner on the Iowa State Judicial Nominating Commission, which interviews and screens judicial applicants for positions on the Iowa Supreme Court and Iowa Court of Appeals. He has also served as an appointed member of the Merit Selection Panel for selection of U.S. Magistrate Judges for the U.S. District Court for the Southern District of Iowa. Guy was appointed by the Chief Justice of the Iowa Supreme Court to serve as a member of the Iowa Supreme Court Grievance Commission. The Commission investigates and hears ethical complaints against Iowa lawyers.
Guy is a member of the American Board of Trial Advocates and has served as membership director for the Iowa chapter. Guy is also a fellow of the Iowa Academy of Trial Lawyers, an invitation only organization, limited to the top 250 trial attorneys in the State of Iowa. He has also been inducted into the Society of Outstanding Lawyers of America and is a certified member of the American College of Master Advocates and Barristers, an invitation only group requiring more than 75 jury trials. Guy's legal abilities have been rated as "very high to preeminent" and his ethical standards as "very high" by fellow Iowa lawyers in the Martindale-Hubbell Legal Directory. He has also been recognized repeatedly as a "leading individual" in litigation in Iowa by Chambers and Partners, a world wide legal publication. Guy has been a guest speaker and lecturer on a number of litigation topics throughout Iowa.
Guy has two children. He counts among his most significant accomplishments donating a kidney to his son for a successful kidney transplant. Guy has been active in various local and national political campaigns and in the Des Moines community as a Commissioner on the Des Moines Historic District Commission and a member of the Des Moines Community Issues Forum.
Practice areas:
Personal Injury
White Collar Criminal
Medical Malpractice & Health Care
Semi-Tractor & Serious Vehicle Collisions
Admission Dates & Jurisdictions
Iowa, 1982
United States District Court, Southern District of Iowa, 1982
United States District Court, Northern District of Iowa, 1982
United States District Court, District of Nebraska, 1989
United States Court of Appeals, Eighth Circuit, 1983
U.S. Court of Federal Claims, 1983
U.S. Tax Court, 1983
Education
Drake University Law School; Des Moines, Iowa

J.D. 1982
Staff Writer/Researcher, Drake Legal Research Service
Board of Governors (Student), Iowa Trial Lawyers Association
Prosecutor Intern, Polk County Attorney's Office

University of Iowa; Iowa City, Iowa

B.A. 1979
Vice President, Liberal Arts Student Association
Legislative Intern, Iowa General Assembly
Resident Advisor, Acacia Fraternity
Professional Experience
Trial Lawyer/Partner, Grefe & Sidney, P.L.C., 1987-Present
Assistant United States Attorney, Southern District of Iowa, 1983-1987
Judicial Law Clerk to Honorable J.L. Larson, Justice, Iowa Supreme Court, 1982-1983
Honors & Awards
Selected for inclusion in Best Lawyers in America
Named to the Iowa Super Lawyers 2007 list of the top 5% of attorneys in Iowa
Certified Member, The Million Dollar Advocates Forum (membership granted only to trial lawyers achieving verdicts or settlements of one million dollars or more; 1 of only 20 lawyers in Iowa admitted to membership)
Inducted into the society of Outstanding Lawyers of America.
Conferred Certified Membership, Senior Counsel, American College of Master Advocates and Barristers (more than 75 trials required-membership by invitation only)
Fellow, Iowa Academy of Trial Lawyers (limited to top 250 trial lawyers in Iowa-membership by invitation only)
Fellow, American Bar Foundation
Fellow, Iowa State Bar Foundation
Conferred Membership, American Board of Trial Advocates
Double Board Certified, National Board of Trial Advocacy
Awarded highest legal accolade A.V. rating by Martindale-Hubbell Legal Directory
Recognized as a "Leading Individual" in Litigation in Iowa by Chambers & Partners Legal Publication
Professional Associations
President, Iowa State Bar Association (2013-2014)
Board of Counselors, Drake University Law School
President, Polk County Bar Association (2005-2006)
Board of Governors, Iowa State Bar Association (2006-2010)
Commissioner, Iowa Supreme Court Grievance Commission (District 5)
Membership Director, American Board of Trial Advocates (Iowa Chapter)
Co-Chair, Building For Justice, Inc. (Founder and Co-Chair of non-profit citizens group seeking passage of bond measure to construct new Polk County Courthouse)
Elected Member, Iowa State Judicial Nominating Commission
Appointed Merit Selection Panel, U.S. Magistrate Judge of the U.S. District Court, Southern District of Iowa