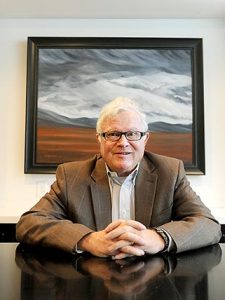 James H. Goetz
Goetz, Baldwin & Geddes, PC 35 North Grand Avenue Bozeman, MT 59771 Practice Area(s): Business Law, Personal Injury visit website
Biographical Information
James Goetz was born in Miles City, Montana, in 1942, and raised in Ennis,
Montana. He graduated from Montana State University (History) in 1965, and from Yale Law School in 1968, and was admitted to the Montana Bar in 1969. He is also admitted to practice in the Federal Court of Appeals for the Ninth Circuit, and the United States Supreme Court. Mr. Goetz specializes in litigation.
He first case was Goetz v. Harrison, 154 Mont. 274, 462 P.2d 891 (1969), a case in which he, after failing the Montana Bar examination, challenged the "diploma privilege," which allowed admission of graduates of the University of Montana Law School to the Montana Bar without the requirement that they pass the Bar examination. This was followed by Huffman v. Montana Supreme Court, 372 F.Supp. 1175, (D.Mont. 1974). Ultimately, the diploma privilege was abolished by Order of the Montana Supreme Court.
One of his early constitutional cases was U. S. v. Reiser, 394 F.Supp. 1060 (D.Mont. 1975), a case in which the Court held that the U. S. Selective Service System was unconstitutional as sexually discriminatory. That case was quickly overturned in the Ninth Circuit (U. S. v. Reiser, 532 F.2nd 673 (9th Cir. 1976)).
Other early significant litigation includes Libby Rod and Gun Club v. Poteat, 594 F.2d 742 (9th Cir. 1979) (affirmed two-to-one, Kennedy dissenting), a case in which the court enjoined the construction of a quarter of a billion dollar "re-regulation dam," below the main Libby Dam, on the Kootenai River in northwestern Montana. Had the project proceeded it would have inundated another seven miles of the Kootenai River.
In the early 1970s, Goetz drafted, on behalf of a group of ranchers and landowners on the Blackfoot River in western Montana, the Montana Conservation Easement Law.
Early in his career Goetz represented famed author, A. B. (Bud) Guthrie, who wrote "The Big Sky," contesting a proposed subdivision in Teton County. Guthrie v. Montana Dept. of Health and Environmental Sciences, 172 Mont. 142 (1977). Also, in the 1970s, Goetz represented discharged University of Montana Controller, Bill Hannon, who blew the whistle on the U. M. Athletic Department's misuse of federal funds to subsidize athletes. The Federal Ninth Circuit held the discharge was retaliatory and a violation of Hannon's First Amendment rights.
Goetz argued two significant constitutional cases in the United States Supreme Court, Baldwin v. Montana Fish and Game Commission, 433 U.S. 371 (1978), and Montana Department of Revenue v. Kurth Ranch, 511 U.S. 767 (1994). Certiorari was granted by the U. S. Supreme Court in another of Goetz's cases, State v. Jackson, 460 U.S. 1030 (1983), although the oral argument took place in a companion case, South Dakota v. Neville, 459 U.S. 553 (1983). In 2005, Goetz and his partner Brian Gallik, with co-counsel, filed State ex rel. Dolan and the State of Montana v. PPL Montana, LLC,Cause No. CV-03 167-M-DWM, in the United States District Court for the District of Montana, Missoula Division. The complaint alleged that Montana owned the land under navigable streams in trust and should be compensated by the power companies for their dam sites. Goetz's clients, after initially prevailing on the preemption issue, were dismissed for lack of standing, and he is no longer counsel. However, the State of Montana (which intervened in the case) continued to prosecute, settling with several companies and obtaining a $40,000,000 verdict, which was reversed by the U.S. Supreme Court in PPL Montana, LLC v. Montana, 132 S.Ct. 1215 (2012).
Goetz has also argued nearly 100 cases in the Montana Supreme Court, including various seminal cases under the Montana Constitution, such as Montanans for the Coal Trust v. State (2000), 298 Mont. 69, 996 P.2d 856 (legislative raid of the Montana Coal Trust); Helena Elementary School Dist. No. 1 v. State (1989), 236 Mont. 44, 769 P.2d 684 (school funding); State Bar of Montana v. Krivec (1981), 193 Mont. 477, 632 P.2d 707 (First Amendment challenge to State Bar lobbying activities); State v. Jackson(1981), 195 Mont. 185, 637 P.2d 1 (certiorari granted and judgment vacated byMontana v. Jackson (1983), 460 U.S. 1030, and on remand in State v. Jackson (1983), 206 Mont. 338, 672 P.2d 255); Nicholson v. Cooney (1994), 265 Mont. 406, 877 P.2d 486.
Goetz was involved in the pre-trial aspects of a case involving a missing body homicide, handling the suppression motion on one of Montana's first DNA cases.State v. Moore, 250 Mont. 254 (1991).
Goetz handled the constitutional appeal invalidating the Montana Grandparent Visitation Law, Polasek v. Omura, 332 Mont. 157 (2006).
Goetz handled a series of cases involving a claimed holographic Will made by the late famed CBS journalist, Charles Kuralt, regarding property claimed by Kuralt's long-time friend, Patricia Shannon. In re Estate of Kuralt, 294 Mont. 354, 981 P.2d 771 (1999), and 306 Mont. 73 (2001).
In 1987, Goetz successfully argued the case striking down constitutional initiative CI 30 (a tort reform initiative). Citizens for Preservation of Citizens' Rights v. Waltermier, 227 Mont. 106, 738 P.2d 1255 (1987).
In 1984 he handled the seminal Montana cases on stream access. Montana Coalition for Steam Access v. Curran, 210 Mont. 38, 682 P.2d 163 (1984) (Dearborn River);Montana Coalition for Stream Access v. Hildreth, 211 Mont. 29, 684 P.2d 1088 (1984) (Beaverhead River). In 1982 Goetz successfully argued Abernathy v. Eline Oil Field Services, 200 Mont. 205, 650 P.2d 772 (1982), which abolished assumption of the risk as an absolute defense and, instead, incorporated the concept as an aspect of comparative negligence.
Goetz has had a number of cases in the lower federal courts. Among them are:Country Classic Dairies, Inc. v. State of Mont., Dept. of Commerce, Milk Control Bureau(1988), 847 F.2d 593 (Interstate Commerce Clause, milk control issues); Phillips v. General Motors Corp. (2002), 307 F.3d 1206 (9th Cir. 2002) (newspaper access to information filed with the courts under protective order); and Doty v. Montana Democratic Central Committee (1971), 333 F.Supp. 49 (applying on equal protection grounds, a one-Democrat, one-vote standard to the party's presidential nominating process). Goetz also represented an environmental group attempting to enjoin a critical land exchange between the U.S. Forest Service and Burlington Northern Railroad when Big Sky Ski Resort was being developed. He obtained an early federal injunction against Federal funding against the Big Sky access road.
Goetz has handled a number of class actions for both plaintiffs and defendants in state and federal court, including McDonald v. Washington, 261 Mont. 392, 862 P.2d 1150 (1993), and Baumgardner v. Public Employees Retirement Board, 328 Mont. 179 (2005).
Goetz has represented the Flathead Nation (Salish and Kootenai Tribes) in western Montana for over 25 years, largely on litigation in state and federal courts on Tribal water issues. Presently pending in Montana Federal Court is a case filed by the Flathead Tribes regarding the ownership of water collected by the Flathead Indian Irrigation Project. Confederated Salish and Kootenai Tribes v. United States Dept. of Interior, et. al, CV-14-44-M-DLC.
Although he primarily represents plaintiffs, he has done work for a number of international corporations including Exxon Mobil, AstraZeneca, CNN, Philip Morris, R. J. Reynolds, Lorillard, Evenflo, Ameriprise, Bristol-Myers Squibb Company, National Union Fire Insurance Company, Comerica Bank and AIG.
A 2006 list of the appellate cases which Goetz has argued, or in which he has significantly participated. Cases since that time include MATL LLP v. Salois, 360 Mont. 510 (2011); Benefis Healthcare v. Great Falls Clinic, LLP, 334 Mont. 86 (2006); Emmerson v. Walker, 357 Mont. 166 (2010); Corporate Air v. Edwards Jet Center, 345 Mont. 336 (2008); Textana, Inc. v. Klabzuba Oil & Gas, 353 Mont. 442 (2009); K & R Partnership v. City of Whitefish, 344 Mont. 336 (2008); Malcolm v. Evenflo Co., Inc., 352 Mont. 325 (2009).
Goetz has published in the area of state constitutional rights, see, e.g., "Interpretations of the Montana Constitution: Sometimes Socratic, Sometimes Erratic," 51 Mont. L.R. 289 (Summer 1990); and has been published about, seeCollins, Ronald K. L., "Reliance on State Constitutions – The Montana Disaster." 63 Tx. L.R. 1095, March/April, 1985.
Goetz was a faculty member, on a full-time basis, in the Department of Political Science (then known as History, Government and Philosophy) at Montana State University from 1968 until the fall of 1972. He served as an adjunct to the same faculty until 1988, teaching courses in American Constitutional Law and Environmental law.
Goetz is a founding member of the Montana Chapter of the A.C.L.U., and served for a period as a national board member of the A.C.L.U.
Goetz was for many years the chair of the Montana Supreme Court's Advisory Commission on Rules of Civil and Appellate procedure.
Goetz is a member of the American Law Institute, a fellow of the American College of Trial Lawyers, an associate of the American Board of Trial Advocates, a member of the American Academy of Appellate Lawyers, and a member of the International Society of Barristers. He is listed in Corporate Counsel as one of the top lawyers in the "bet-the-company" litigation. He is listed in Woodward & White's The Best Lawyers in America in seven Montana categories including appellate practice, bet-the-company litigation, commercial litigation, environmental litigation, First Amendment litigation, labor and employment litigation, and trust and estate litigation. He was named Best Lawyers:  Lawyer of the Year in 2013.  He is also listed in Chambers U.S.A. America's Leading Business Lawyers, 2003-2004 as one of the four "leading individuals" in Montana in the category of general commercial litigation. He is listed in Super Lawyers' Top 75 Mountain States Lawyers.
Goetz is a member of the Montana State University Society of Centennial Alumni (100 most prominent MSU alumni in its first 100 years). He is a board member of the Madison River Foundation.
The March/April, 1995 edition of Montana_Magazine, for its 25th anniversary, published a section featuring 25 people "… who we believe have made Montana a better place to live this past quarter century." Goetz is one of the 25 people featured. Goetz has also been featured in a number of other publications, including the The American Lawyer, the Bozeman Daily Chronicle 1985, the Bozeman Daily Chronicle 2011, Montana Quarterly Fall 2012 and the Great Falls Tribune. In 1986 the Festival of American Folklife took place on the National Mall in Washington, D. C., and featured the work of trial lawyers. Goetz was one of the presenting trial lawyers, and his presentation was discussed in Schrager, Sam, The Trial Lawyer's Art.
In 1992 Goetz received the "Civil Justice Award" from the Montana Chapter of the American Board of Trial Advocates. In 1987-1988 Goetz, with partners Madden and Dunn, received the "Distinguished Service Award" of the Montana Trial Lawyers Association. Goetz, with partner William Madden, was the recipient of the Resources Defense Award of the National Wildlife Federation in 1979, for outstanding contributions to the wise use and management of the nation's natural resources. In 2012, Goetz received "Legend of the Headwaters Award"  from the Madison/Gallatin Chapter of Trout Unlimited for his work in protecting stream access and preserving the integrity of Montana Rivers. In 2013, Goetz received the "Jeannette Rankin Civil Liberties Award" from the Montana Chapter of the ACLU for his "long-term vision and his commitment to defending constitutional rights and protecting individual liberties."
In the 1990s Goetz, on a pro bono basis, assisted in establishing the Northern Cheyenne Public High School District on the Northern Cheyenne Reservation, Lame Deer, Montana.
Goetz represented, on behalf of the A.C.L.U., a group of same-sex committed couples challenging discrimination in benefits see Donaldson v. State of Montana, 367 Mont. 228 2012 MT P.3d 364, remanded to lower court for further proceeding. Goetz also represents the Montana Cannabis. See Montana Cannabis Industry Association v. State of Montana, 2012 MT 201 366 Mont. 224 286 P.3d 1161, on remand the case is pending before District Court which has entered a preliminary injunction.
In 2012, Goetz successfully argued Mattison, et al. v Montana Power Company,certifying a class of shoreline owners on Flathead Lake regarding high-water lake shore damages. See Mattison, et al. v Montana Power Company, 2012 MT 318, 368 Mont. 1 291, P.3d 1209.
Education
Yale University, L.L.B., 1968
Montana State University, B.A., 1965