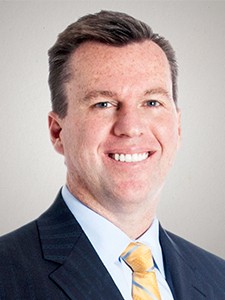 James Michael Kelley, III
Elk & Elk Co., Ltd. 6105 Parkland Boulevard Suite 200 Mayfield Heights, OH 44124 Practice Area(s): Personal Injury call (440) 442-6677 fax (877) 355-1355 visit website
Biographical Information
Jay's practice focuses on civil trial work in state and federal courts in matters of medical negligence and wrongful death arising from birth injury, surgery; oncological, cardiac and pharmaceutical product liability causes. Jay has presented to jury more than 70 cases, including felony prosecution, criminal defense, civil defense and civil plaintiff cases. He has been lead counsel on cases in more than 30 Ohio counties, appellate courts and the Supreme Court of Ohio. Jay was made partner at Elk & Elk in 2011.
Jay has been recognized as an "Ohio Super Lawyer" for four consecutive years, maintains the highest AVVO rating and received a 5.0/5.0 AV Preeminent Martindale-Hubbell® Peer Review Rating™ by members of the Bar and Judiciary for his legal ability and professional ethical standards. He has been named to the Top Ten Ohio Super Lawyer's list for 2011 and 2012 by Super Lawyers, Cincinnati and Columbus magazines, Top 100 Ohio Super Lawyers for 2010, 2011 and 2012 and Top 50 lawyers in Cleveland by Super Lawyers for 2009 and 2012. Jay is a past member of the board of trustees for Ohio Association of Justice and currently serves on Board of Trustees for The Cleveland Academy of Trial Attorneys. Nationally, he's a member of the American Association of Justice's "Leadership Forum."
Jay speaks internationally to medical and legal groups on the issue of birth injury and medical liability. In 2008, Jay was reviewer for a fetal monitoring textbook used by physicians around the country on the issue of liability for birth injuries. Jay has recently submitted a chapter on Medical Legal Liability in Gynecology for print in 2011 in Katz, 6th Edition Comprehensive Gynecology. The respect of the medical community provides access to leading experts and optimal results.
Honors & Awards
Million Dollar Advocates Forum-Member
Multi-Million Dollar Advocates Forum-Member
Ohio Super Lawyers – Top 5 Cleveland Area Super Lawyers – 2012 & 2013
Ohio Super Lawyers – Top 50 Cleveland Area Super Lawyers – 2009, 2012 & 2013
Ohio Super Lawyers – 2009, 2010, 2011, 2012 & 2013
Ohio Super Lawyers – Top 100 Ohio Super Lawyers – 2010, 2011, 2012 & 2013
Ohio Super Lawyers – Top 10 Ohio Super Lawyers – 2011, 2012 & 2013
Elite Lawyers of America-Platinum Member (10 or more $2 million dollar results)
American Association for Justice Top 100 Ohio 2008-2011
Board Certified Civil Trial Specialist by the National Board of Trial Advocacy (Recertified 2011)
Martindale-Hubbell® Peer Review Rating™ – 5.0/5.0 AV/ Preeminent
Professional Associations
Ohio State Bar Association
Academy of Trial Attorneys
Cleveland Metropolitan Bar Association-Fellow
The Ohio Association of Justice (OAJ) Board of Trustees, 2009-2010
Board Certified Civil Trial Specialist
American Association of Justice: Leaders Forum
Verdicts & Settlements
$4.65 Billion – Managed Vioxx claims including heart attack and thrombotic stroke claims as part of a settlement with Merck for 62 clients
$10 Million – Paralysis case (Lucas County Record)
$10 Million – Claim arising from Spinal surgery to correct Scoliosis, 2004
$9.88 Million – Birth injury claim. (Portage County Record), 2006
$6 Million – Plaintiff suffered an anoxic brain injury in the recovery room from a combination of Morphine, Valium and airway risk factors, 2009
$6 Million – Patient was administered a paralytic agent negligently resulting in an arrest and death while in the ICU, 2003
$5.3 Million – Mismanagement of intrapartum care of twins, results in Twin "A" suffering Hypoxic Ischemic Encephalopathy, 2008
$4.5 Million – Result for Labor and delivery claim resulting in hypoxic injury, 2011
$4.1 Million – Cerebral palsy case
$3.9 Million – Mismanagement of Labor and delivery, including a failure to recognize warning signs on Fetal Tracings resulting in Neurologic Injury (CP) to the infant, 2007
$3.5 Million – Resolution for birth injury in premature child, 2012
$3.5M Million – Result for injury to neonate/child following placement of a PEG tube, 2011
$3.5 Million – Surgical error case
$3 Million – Man burned over arms, legs and torso from explosion
$2.5 Million – Mismanagement of preterm labor resulting in a stillbirth, 2006
$1.8 Million – Botched sinus surgery
$1.5 Million – Result for surgical error, 2011
$1.5 Million – Delay in diagnosing breast cancer
$1 Million – Failure to diagnose prostate cancer – resulted in cancer progressing to Stage IV by diagnosis
$1.1 Million – Delay in Diagnosis and Treatment of Tongue Cancer Case
Oversaw the handling and resolution of claims related to birth control patches resulting in blood clots
Publications
Mosby's Fetal Monitoring; a Multidisciplinary Approach, Sixth Edition, Reviewer
Katz, 6th Edition Comprehensive Gynecology, Medical Legal Issues, 2011