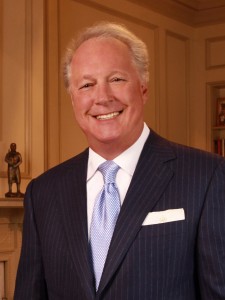 James G. Bordas, Jr.
In Memoriam Bordas & Bordas, PLLC 1358 National Road Wheeling, WV 26003 Practice Area(s): Personal Injury visit website
Biographical Information
Jim Bordas has been a trial lawyer for almost 40 years. Jim, along with his wife, Linda, founded the firm of Bordas & Bordas upon Linda's graduation from law school in 1985. Jim Bordas has obtained verdicts and settlements in cases involving medical malpractice, product liability, chemical exposure, lender liability, bad faith insurance, soft tissue/head injury and TMJ, employment law, nursing home and trucking. He has successfully prosecuted numerous criminal cases and has also successfully defended multiple diverse criminal cases. In a number of different areas of the law Jim's verdicts have set records in the jurisdictions where the trials took place, including a verdict in Meredith v. Heartland of Clarksburg in 2002 – not only was that one of the largest verdicts in the country of any kind that year, it is believed to be among the largest ever recorded anywhere against a nursing home corporation.
Jim has been identified as a West Virginia Super Lawyer and one of the best medical malpractice lawyers in the country. He was recently honored by the West Virginia Association for Justice as the Member of the Year. Jim started the firm's DVD Mediation Program, Focus Group Trial Preparation Concept, and Mock Trial Programs. He continues to focus his efforts on the firm's major and most complex cases while still taking the time to assist the area's poor in helping to solve some of their problems free of charge.
Jim and his cases have been featured on national television on both 60 Minutes and Inside Edition. He has lectured in the areas of lender liability, bad faith insurance, medical malpractice and personal injury. His cases include several of the largest lender-liability verdicts in West Virginia history in a verdict against Bank One in 1992 and a verdict against Quicken Loans in 2011. HisStrope v. Honda case, handled with Scott Blass in 1993, was at the time the only second-impact, seatback collapse case won against a major automaker – and it still may be.
Jim, working alongside his wife Linda obtained numerous major verdicts in medical malpractice including more than one that was the maximum allowed by law – including an obstetrics case in Marshall County and radiation/oncology case and a misdiagnosis of Kowasaki's disease case.
Jim has also received some of the largest soft-tissue verdicts in automobile and slip-and-fall cases in the history of this state, including the Bonar case in Ohio County, West Virginia, the soft-tissue slip-and-fall case, Blakely, in Marshall County, West Virginia. A single-vehicle road construction case on behalf of Don Pletcher in Ohio County, West Virginia. The first significant soft-tissue verdict in the state of West Virginia in 1982 on behalf of Roger Parker in Marshall County, West Virginia. The first recognized identification of fibromyalgia in an automobile case that was tried in Belmont County, Ohio in the late 1980s. Various other soft tissue verdicts including an automobile case in Ohio County, West Virginia as well as a recent verdict in Belmont County, Ohio.
Jim also has major verdicts in toxic tort and utility liability cases, including Riggle v. Allied Chemical, a settlement in a utility fire case and a verdict and settlement in an electrocution case. His bad faith insurance practice includes an astonishing settlement against State Farm in Harris v. State Farm. He has stood up for workers rights in cases of workplace injury, including Evans v. Allied Waste and homeowners faced with toxic mold, including a settlement in that area in Marshall County in 2004. Dozens of other settlements and/or verdicts in excess have been recorded. over Jim's career across virtually every area of civil litigation.
Jim also takes great pride in having represented seven female coal miners in the Beckley, West Virginia area in Federal Court in the Southern District of West Virginia in which Judge Elizabeth Hallahan set the standards for the way in which women are to be treated in our nation's coal mines and heavy industry.
Jim is on the Board of Governors of the West Virginia Association for Justice. He is also one of only six members in the State of West Virginia on the Civil Law Committee appointed by Chief Justice Elliott E. Maynard of the West Virginia Supreme Court of Appeals to compose standard jury instructions for use in civil trials in West Virginia.
Jim came to Wheeling, West Virginia in 1972 after graduating from law school and marrying Linda. He was employed by the Wheeling law firm of Riley & Yahn. Within two years, he became a named partner and the firm name was changed to Riley, Yahn, Bordas & Cooey. While employed there, he was also a part-time assistant prosecuting attorney for Ohio County, West Virginia. During this time, he was the lead attorney in most of the office's major felony cases.
In 1978, Jim started his own practice in the Elm Grove area of Wheeling. His practice continued to focus on representing persons who had been injured as a result of the negligence of others. Ask Jim or one of the firm's other lawyers about the many verdicts and settlements recovered by the firm on behalf of its clients. He remained in the Elm Grove area until 1985 when he and Linda opened their office on National Road in the Dimmeydale area of Wheeling.
Education
West Virginia State College, B.S. in Business Administration, 1969
Honors & Awards
Best Lawyers in America
Best Lawyers Personal Injury Litigation Lawyer of the Year, Morgantown Area, 2012
Newsweek National Leaders in Medical Malpractice, April 23 & April 30, 2012
Professional Associations
West Virginia State Bar Association
American Association for Justice
Member, State of West Virginia ,Civil Law Committee
Board of Governors, West Virginia Association for Justice
Verdicts & Settlements
$1,000,000.00 Have Been Recorded Over Jim's Career Across Virtually Every Area Of Civil Litigation
$3,750,000.00 Settlement In That Area InMarshallCounty, 2004
6,000,000.00 Result in Evans v. Allied Waste
$11,800,000.00 against State Farm in Harris v. State Farm
$3,400,000.00 Verdict And Settlement In An Electrocution Case
$8,000,000.00 Settlement In a Utility Fire Case
$500,000.00 verdict in Riggle v. Allied Chemical
$492,000.00 in Belmont County, Ohio
West Virginia with a consortium verdict of $200,000
Various Other Soft Tissue Verdicts Including An Automobile Verdict Of $602,000 InMarshallCounty
Belmont County against Sears, in Dunn vs. Sears for $600,000
Belmont County, Ohio with a verdict of $650,000 in the late 1980s
Roger Parker in the sum of $665,000 in Marshall County
Don Pletcher in Ohio County, West Virginia in the sum of $775,000
Blakely, in Marshall County, West Virginia of $1,040,000
Bonar case in Ohio County, West Virginia of $1,125,000
Marshall County $2,760,000.00
Radiation/Oncology Case $2,500,000.00
Kowasaki's Disease Case $2,000,000.00
$3,620,000.00 Verdict And Was At The Time The Only Second-Impact
Strope v. Honda case, handled with Scott Blass, 1993
$2,700,000.00 verdict against Quicken Loans, 2011
West Virginia history in a $2,500,000.00 verdict against Bank One, 1992
$50,000,000.00 verdict in Meredith v. Heartland of Clarksburg in 2002
Speaking Engagements
Lecturer, Medical Malpractice
Lecturer, Personal Injury
Lecturer, Bad Faith Insurance
Lecturer, Lender Liability
Service Activities
Co-Trustee, Roy Chambers Foundation