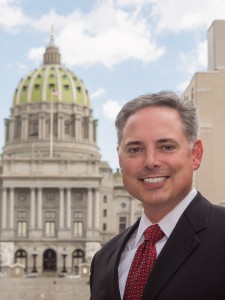 Jeffrey B. Engle
Shaffer & Engle Law Offices, LLC 2205 Forest Hills Drive Ste 10 Harrisburg, PA 17112 Practice Area(s): Criminal Defense, Family Law call (717) 545-3032 fax (717) 545-3083 email [email protected] visit website
Biographical Information
Attorney Engle graduated in 1992 from the Pennsylvania State University with a Bachelor of Arts degree in Political Science.  He received his juris doctorate degree from the Widener School of Law, Capital Campus in 1995.  He was admitted to the State Bar in Pennsylvania and was licensed to practice in 1995.  His first job was as an assistant public defender in Dauphin County, Pennsylvania. Attorney Engle represented more than 500 individuals between the Spring of 1995 and the Winter of 1997. He was engaged in every aspect of the representation of individuals accused of various crimes, including rape, aggravated indecent assault, statutory sexual assault, indecent assault, indecent exposure and open lewdness among many others.  He was assigned to handle the litigation update for the office and therefore, reviewed every new case announced by either the Superior or Supreme Court on a daily basis and provided a monthly update to all other attorneys (approximately 15) in the office.  He tried approximately 15 jury trials.
Next, from the Spring of 1997 to the Fall of 1999, Attorney Engle also served as an assistant district attorney in the Dauphin County District Attorney's Office.  He successfully prosecuted more than 2,000 individuals.  He was assigned to handle child sexual abuse prosecutions for the office and litigated approximately 20 trials in this area. He also handled the Post Conviction Relief Act ("PCRA") files for the office.  In this respect, he handled approximately 250 cases, 50 hearings- including serial killer "Joey Miller"- and 25 appeals to either the Superior or Supreme Court of Pennsylvania.
Attorney Engle has taught as an adjunct professor at the Harrisburg Area Community College for the Municipal Police Officers Education and Training Commission in the areas of criminal procedure and criminal law.  He also provided instruction to the Pennsylvania State Police- Troop H, Harrisburg, Pennsylvania in the area of searches and seizures.  Attorney Engle then moved onto private practice in 1999 where he partnered with Attorney Allen Shaffer in Millersburg, Pennsylvania.  In 2008, he partnered with Attorney Elisabeth K.H. Pasqualini.  In 2012, the office was relocated to a central location in Harrisburg, PA.  While in private practice, he served as a juvenile hearing examiner appointed by the President Judges of Dauphin County from 2001-2008.  As a juvenile hearing examiner, Mr. Engle was assigned to oversee the dependency and delinquency matters of more than 2,500 youth.  Since being in private practice Attorney Engle has been devoted to a multi-faceted practice, handling a wide variety of legal matters; including family law, real estate tax assessment law, educational law, municipal law, and personal injury matters.  In his private practice, Mr. Engle continues to provide criminal advocacy to his clients by trying criminal cases and being active in those appeals and all the appellate matters of his office.
Attorney Engle resides in Harrisburg, Pennsylvania with his wife, Nicole and son, Peter.
Admission Dates & Jurisdictions
The Pennsylvania State Bar Association- 1995
The United State Supreme Court- 1998
United States Third Circuit Court of Appeals- 1999
United States Federal District Court- 1999
United States Tax Court- 2004
Education
1992- The Pennsylvania State University; Main Campus, Bachelor of Arts Degree in Political Science.
1995- The Widener School of Law Commonwealth Campus, Juris Doctorate.
1998- University of Houston; National College of District Attorneys, Career Prosecutor Course in trial advocacy.
Professional Experience
1995-1997- Dauphin County Public Defender's Office.
1997-1999- Dauphin County District Attorney's Office.
2000-2007- Dauphin County Juvenile Hearing Examiner.
2008-Present- Solicitor Dauphin County Board of Tax Assessment Appeals.
2010-Present- Solicitor Central Dauphin School District.
2014-Present- Solicitor Susquehanna Township School District.
2016-Present- Solicitor Derry Township General Authority.
2016-Present- Solicitor Derry Township Industrial Development Authority.
Honors & Awards
2015-2016- The National Trial Lawyers Top 100 Trial Attorneys
2016-2017- The National Trial Lawyers Top 100 Trial Attorneys
2016-2017- Lawyers of Distinction
2017-2018- Lawyers of Distinction
AVVO- "Superb Rating- 10"
2017- National Association of Distinguished Counsel- Top 10 Percent
2018- National Association of Distinguished Counsel- Top 10 Percent
2017-2018- American Association of Family Law Attorneys- 10 Best
Professional Associations
Pennsylvania School Board's Association;
Pennsylvania Association of School Business Officials;
National Association of Criminal Defense Lawyers.
Representative Cases
Commonwealth v. Neiman, 624 Pa. 53, 84 A.3d 603 (December 16, 2013).  Megan's Law III held unconstitutional.
Argued before the Pennsylvania Supreme Court in Philadelphia, September 11, 2012, by Attorney Jeffrey B. Engle on behalf of Appellant, James H. Neiman, Jr.  (See Link to Argument Session before the Supreme Court- http://www.shafferengle.com/Attorney-Engle-Argues-against-the-Constitutionality-of-Megans-Law-III-Act-152-of-2004-Shaffer-Engle-Law-Offices-LLC.shtml).
Holding: The Pennsylvania Supreme Court determined that Megan's Law III, as well as other legislative pronouncements, contained within Act 152 /Megan's Law III were passed in violation of Article III, Section 3, known as the "Single Subject Rule."  Megan's Law III was struck down as unconstitutional in its entirety.
Megan's Law Background: New Jersey enacted a community notification statute referred to as "Megan's Law" after the abduction, rape and murder of seven-year old Megan Kanka.  Congress passed federal legislation conditioning certain federal funding on states adopting comparable legislation to that of New Jersey.   Pennsylvania enacted its first "Megan's Law" on October 24, 1995.  Megan's Law I was determined unconstitutional by the Pennsylvania Supreme Court in 1999 because the procedure for determining whether an offender was a "sexually violent predator" under the Law violated procedural due process guarantees by requiring the offender to rebut a presumption that [s]he was a sexually violent predator.  Commonwealth v. Williams, 557 Pa. 304, 733 A.2d 593 (1999) ("Williams I").  In response to Williams I, the Legislature passed Megan's Law II on May 10, 2000 and "altered the manner in which an individual convicted of a predicate offense was adjudicated a sexually violent predator" by imposing upon the Commonwealth "the burden of proving such status by clear and convincing evidence."  Commonwealth v. Williams, 574 Pa. 487, 495, 832 A.2d 962, 966 (2003) ("Williams II").  However, in Williams II, the Supreme Court considered an ex post facto challenge to the retroactive application of Megan's Law II, and held that Megan's Law II registration, notification and counseling provisions were non-punitive, regulatory measures, but that the penalty provisions applicable to sexually violent predators were unconstitutionally punitive.  Megan's Law III (Act 152) was enacted on November 24, 2004 and was repealed by the newly enacted Adam Walsh Act that went into effect on December 20, 2012.  Megan's Law III contained a new definition for "predatory" from Megan's Law II.
Factual Background: Neiman was convicted after a multi-day trial in the Court of Common Pleas, Schuylkill County, Criminal Division, Nos. CP–54–CR–0001870–2005, CP–54–CR–0001871–2005, of numerous sexual offenses against two child victims.  These offenses included aggravated indecent assault, indecent assault, endangering the welfare of children, corruption of minors, and indecent exposure. Neiman was sentenced to aggregate term of 13 1/2 to 27 years imprisonment, found to be a sexually violent predator, and ordered to comply with lifetime registration obligations under Megan's Law III.
Speaking Engagements
2016- Recent Updates in Real Estate Tax Assessment Law In Pennsylvania for the Pennsylvania Bar Institute;
2016- Tax Exemptions in Real Estate for the County Commissioners' Association of Pennsylvania;
2015- The Elements of School Law and Organization for the Pennsylvania Association of School Business Officials;
2014- Recent Updates in Real Estate Tax Assessment Law In Pennsylvania for the Pennsylvania Bar Institute;
2013- Testimony before the House Finance Committee regarding SB 4 and Act 55 regarding Real Estate Tax Exemptions in Pennsylvania;