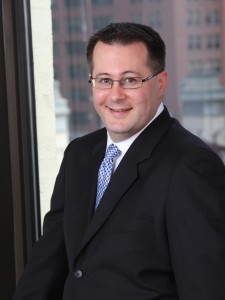 Jeremy L. Geller
Trapp & Geller 205 West Wacker Drive Suite 900 Chicago, IL 60606 Practice Area(s): Personal Injury, Medical Malpractice call (312) 269-1329 fax (312) 263-1108 email [email protected] visit website
Biographical Information
Jeremy handles all aspects of personal injury law including automobile accidents, premises liability, medical malpractice, construction negligence, FELA injuries, and worker's compensation cases. He vigorously and aggressively represents people who have been injured in any accident and has a proven record of success. Jeremy has numerous jury trial verdicts which have been reported in the Jury Verdict Reporter and he has been selected as an Illinois Super Lawyer, one of the Top 40 Under 40 Lawyers and Top 100 Lawyers by the National Trial Lawyers Association and one of the Top 10 Under 40 Lawyers in the State of Illinois by the National Association of Personal Injury Attorneys and has received the Litigators Award as one of the Nation's Top 1% of all Attorneys. He has successfully achieved many millions of dollars in verdicts and settlements on behalf of his clients and their families.
Admission Dates & Jurisdictions
Admitted to Practice in Illinois since 2002.
Education
John Marshall Law School – 2002
University of Wisconsin – 1999
Professional Experience
Partner at Trapp & Geller
Honors & Awards
–  Illinois Super Lawyer
– Top 40 Under 40 Lawyers in Illinois as rated by the National Trial Lawyers Association
– Top 100 Trial Lawyers in Illinois as rated by the National Trial Lawyers Association
– Top 10 Under 40 Lawyers in the State of Illinois as chosen by the National Association of Personal Injury Attorneys
– Recipient of the Litigators Award as one of the Nation's Top 1% of all Attorneys
Professional Associations
Illinois Trial Lawyers Association, Illinois State Bar Association, American Bar Association, National Association of Personal Injury Attorneys, Chicago Bar Association, American Bar Association, Decalogue Society
Verdicts & Settlements
$7,000,000 – Stolen semi-truck seriously injures 10 year old boy
$3,500,000 – Trump Tower metal beam falls on construction worker's head
$2,000,000 – Mason falls through concealed hole at construction site
$1,910,000 – Construction laborer falls off ladder and injures foot and shoulder
$1,500,000 – Woman injured in fight at local concert venue
$1,300,000 – 80 year old client suffers head injury and dies after being struck by car
$1,240,000 – construction worker injured when hoist malfunctions – products liability
$1,220,000 – Brother and sister injured when Construction truck blows stop sign
$1,122,487 – Bad Faith Verdict for a torn rotator cuff injury
$1,000,000 – FELA Railroad employee injured at METRA
$980,000 – Verdict against City of Chicago for car accident with herniated disc
$950,000 – Environmental clean up employee suffers injury at railroad derailment site
$800,000 – Woman trips over parking barrier and suffers torn rotator cuff
$750,000 – FELA railroad employee injured in elevator at METRA
$750,000 – Grandmother injured in Meijer Super Market slip and fall
$590,000 – 75 year old woman struck by FedEx Truck driving 1 mile per hour
$550,000 – Verdict for torn rotator cuff injury after client was hit by Mack Truck
$530,000 – client slipped at local super market store
$500,000 – 45 year old client suffers broken elbow when other drive blows stop sign
$500,000 – fractured leg from a slip and fall on icy drive way