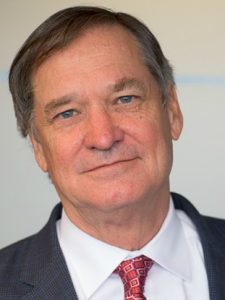 Joel D. Cunningham
Luvera Law Firm 701 Fifth Avenue, Suite 6700 Seattle, WA 98104 Practice Area(s): Personal Injury visit website
Biographical Information
Joel Cunningham, a member of the Luvera Law Firm since 1995, specializes in representing plaintiffs in medical malpractice and product liability cases, with a special emphasis on cases against large pharmaceutical companies.
Cunningham has represented clients in numerous jury cases that resulted in awards in excess of $1 million. In 1999 he and Paul Luvera obtained a $29.7 million verdict — the largest medical malpractice verdict in Idaho state history. In 2001, he worked with Luvera to win a $16.2 million verdict in Jennifer Rufer's case against Abbott Laboratories and the University of Washington Medical Center.
Cunningham has been a member of the Washington State Pattern Jury Instructions Committee for the past 15 years. He is an invited member of the American Board of Trial Advocates, as well as the Damage Attorney's Round Table, comprised of the top five percent of trial attorneys in Washington representing injured people. He is a fellow of the American College of Trial Lawyers, which represents the top one percent of lawyers in the state, and a member of the International Academy of Trial Lawyers, whose membership is limited to the top 500 lawyers in the world. Cunningham is also a member of the International Society of Barristers.
Cunningham has also been selected by fellow lawyers in a 2004 state wide survey as a Super Lawyer ©. The annual survey is conducted by Washington Law and Politics. More then 20,000 ballots were mailed to attorneys across Washington who were asked to vote for the best lawyers they had personally observed in action. This year, Cunningham ranked within the top 10 lawyers in the state.
Most recently, Cunningham joined the Inner Circle of Advocates, the nation's most exclusive plaintiff's trial lawyers organization. The Inner Circle represents 100 of the best lawyers in the U.S. and has not elected a member from Washington in over a decade.
Cunningham earned a bachelor's degree in economics in 1971 from the University of Washington and graduated first in his class from the University of Washington Law School in 1974 with high honors (Order of Coif).
Cunningham was born in Renton, Wash. He and his wife Amy reside in the Seattle area, and have two children.
Verdicts & Settlements
SETTLEMENTS
Below is a brief outline of some of the firm's many notable settlements organized by practice area.
Defective Products
$20.5 million

Partial Settlement in Contaminated Medical Product Case

$7.4 million

Pharmaceutical company failed to warn of drug interaction; drug severely worsened medical condition for disabled child

$1.3 million

Three-year-old boy suffered kidney damage after drinking Odwalla juice during the 1996 E. Coli outbreak

$2 million

The roof of a Toyota Tacoma truck crushed a passenger during a severe rollover accident, leaving the man quadriplegic

$10 million

Six-year-old boy contracted Hepatitis A from a Subway restaurant, suffered severe liver damage requiring transplant
Insurance Misconduct
$ 5 million

Insurer sued for bad faith refusal to provide coverage and negotiate in nursing home negligence case

$ 8 million

Insurer sued for bad faith refusal to provide coverage when jet ski accident caused severe injuries
Maritime Injuries
$1.7 million

Faulty towing set-up caused tow line to strike seaman, causing significant leg injuries and rendering him unfit for sea duty
Airplane Accidents
$1.3 million

Commercial airliner lost pressure after attendants failed to properly close door, causing passenger to completely lose hearing

$3 million

Flight nurse died after helicopter she was in crashed into Puget Sound as a result of broken piston rod
Medical Malpractice
$1.3 million

Delayed diagnosis of skin cancer causes significantly increased chance of recurrence and shortened life expectancy

$2 million

30 year old wife and mother of two dies due to negligent delay in diagnosis and treatment of critically low potassium and calcium

$2.2 million

Delayed diagnosis of colon cancer causing man's death

$2.3 million

Child suffers brain injury when given 10 times the correct dosage of chemotherapy medication

$3 million

71 year old woman suffers paraplegia when doctor negligent delays review of CT scan

$3.3 million

32 year old man suffers brain damage when given wrong dosage of medication in emergency room where he'd gone for minor injury

$4.5 million

Baby suffers brain injury when doctor negligently delays delivery

$5 million

Obstetrician negligently delays delivery causing baby to suffer brain injury and later death

$6 million

Negligently performed epidural injection while woman in labor causes cardiac arrest and brain damage

$6.5 million

Failure to treat bacterial infection from broken arm causes brain injury to 9 year old girl

$7 million

Infant suffers brain damage when nurse negligently infuses breast milk in central venous catheter

$7 million

Man's throat severely burned by fire when laser ignites anesthesia gases during routine vocal cord surgery in Bellingham

$10 million

Baby suffers cerebral palsy due to mid-wife and hospital negligence

$13 million

Baby suffers catastrophic brain injuries when hospital botches prenatal ultrasound leading to attempted vaginal delivery and crash C-section
Automobile Accidents
$ 1.2 million

Woman suffers severe facial injuries when thrown from car after trying to avoid oncoming car illegally passing in her lane

$1.5 million

Husband and father of three killed when Sheriff's deputy sped through stop sign

$1.7 million

65 year old retired woman killed by truck while walking on side of road

$ 2 million

High school student suffers severe neurological injuries when struck by car while jogging on side of street in PE class

$ 7 million

Husband and father of two killed by cement truck running red light

$ 9.2 million

Family members suffer severe injuries when struck head on by car in wrong lane
Personal Injury
$1.2 million

A 4-year-old fell from improperly protected playground equipment, resulting in permanent cognitive injuries

$1.5 million

A 32-year-old father of three was killed when a Sheriff's Deputy sped through a stop sign and hit the victim's car

$2 million

High school student hit by car during a run on arterial streets during physical education class, suffered loss of motor control and other neurological damage

$1.2 million

A 16-year-old driver caused a severe auto accident when he tried to pass illegally, forcing a woman in the oncoming lane to swerve down a steep embankment; she suffered severe facial injuries after being thrown from the car

$3.2 million

An apartment complex owner, gas and service company failed to install proper safeguards to prevent carbon monoxide leaking from a gas water heater, leading to poisoning and injury of two tenants

$75 million

Oil pipeline blast killed two boys

$2.5 million

Landmark Settlement Reached in DC Sniper Lawsuit. Manufacturer, Dealer to pay more than $2.5 million to victims. First time gun maker pays damages for criminal shooting.

$9.2 million

Four family members were struck head on by a car coming from the opposite direction which was in the wrong lane causing severe injuries to all.

$7 million

Wrongful death case, 47 year old married man, father of two killed when cement truck runs red light.
Corporate Wrongdoing
$4.3 million

Worker burned to death by explosion in Anacortes, Washington after refinery bypassed safety procedures

$7.7 million

Worker suffers permanent brain injuries due to unsafe working conditions including faulty scaffolding and hazardous gases

$45 million

Six workers killed in oil refinery explosion in Anacortes, Washington caused by extreme negligence

$75 million

Olympic pipeline explosion in Bellingham, Washington kills 2 boys
VERDICTS
Below is a brief outline of some of the firm's many notable verdicts organized by practice area.
Medical Malpractice
$850,000

Failure to diagnose staph infection in 14 yr old girl's knee causing permanent damage

$1.8 million

Failure of nurses to report problems after back surgery causes woman to suffer partial paraplegia

$4 million

Failure to treat and monitor blood coagulation disorder in disabled veteran

$10.7 million

Failure to diagnose and treat high bilirubin in baby causing brain injury

$15.2 million

Judge enters award against the University of Washington for miscommunicating to a family what medication to administer to 4 year old heart transplant patient

$17.7 million

Catheter punctures heart causing heart attack and brain damage

$29.7 million

Failure to diagnose ruptured blood vessel after amniocentesis causing brain injury
Personal Injury
$500,000

Student dies in a snow cave after suffering hypothermia on an ill-planned mountain climbing trip required by school

$2.5 million

Negligence of commercial pilot results in crash and death of passenger

$11.7 million

Negligence of commercial truck driver causes accident and 63 year woman is crippled in collision

$8.5 million

Arbitration award arising from death of 62 year old single lady
Corporate Wrongdoing
$948,411

Pilot fired without just cause, causing significant financial loss

$19.9 million

Billboard worker electrocuted by nearby power lines, resulting in amputation and partial paraplegia
Defective Products
$3.3 million

Drug company's false marketing and failure to warn about its drug causes seizures and brain damage

$16.2 million

Faulty pregnancy test leads to cancer misdiagnosis, unnecessary chemotherapy treatments and hysterectomy in young woman

$40 million

Defective heart monitor burns heart, necessitating heart transplant and causing immunosuppressive blood cancer

$44 million

Dangerous drug interaction causing severe seizures and brain damage for young man
Automobile Accidents
$910,000

Motorcyclist cut off by van driver causing severe knee and ankle injuries

$1.8 million

Dump truck backs over highway flagger, caused severe back injuries and nerve damage

$2.4 million

Car falls 40 feet of side of bridge due to lack of guardrail, causing Driver to suffer brain damage and paralysis

$2.6 million

Accident causing woman to suffer permanent and disabling back injuries

$3.4 million

Failure to yield right of way causing brain injuries

$6.3 million

Student hit by truck in front of school, suffered permanent brain damage