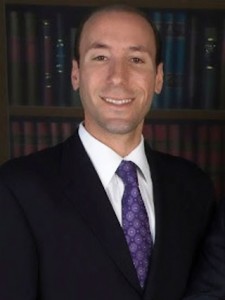 Joshua K. Friedman
Brodie & Friedman P.A. 1675 N Military Trail Suite 550 Boca Raton, FL 33486 Practice Area(s): Family Law call (561) 392-5100 fax (561) 392-5199 visit website
Biographical Information
Joshua K. Friedman, Esquire believes family matters are delicate matters having spent more than 10 years championing Florida families, advising clients' about their marital, parental and children's rights. He works closely with clients to resolve concerns, relieve anxiety, and develop practical solutions to avoid or defend against difficult family-related legal challenges.
With more than 30 years of combined experience, Joshua K. Friedman, Esquire and his partner Jason A. Brodie, Esquire are unmatched in their dedication to giving individualized and detailed attention to each family; recognizing that every family and the issues at hand are unique. This insight is what makes Joshua K. Friedman and his practice excel on a broad range of issues including; Family Law, Divorce, Child Custody, Child Support, Alimony & Spousal Support, Domestic Violence, Paternity, Property Division, and Relocation.
Joshua earned his Bachelor of Arts degree from the University of Florida in 1997 and his J.D. (Juris Doctor) from New York Law School in 2000. After going into private practice in Boca Raton, Joshua decided a partnership with Jason A. Brodie focusing on family law would suit his core values and primary mission of one-on-one diligence.
Joshua K. Friedman was named Best of Boca Attorney by the Boca Raton magazine and readers of the Boca Raton Forum as published in the Sun-Sentinel section in 2007 and 2009. The award-winning duo are frequent experts on local and national media, sharing their expertise on family law counsel regarding timely headline news stories on NBC Today, MSNBC, Fox News, Nancy Grace, and Palm Beach County network affiliates: WPTV News Channel 5, WPBF Channel 25 and WPEC Channel 12. He often serves as a news media expert source for his breadth of knowledge, strength, acumen, and clarity, both outside and inside the courtroom with regard to the complexities and ways Florida law can protect clients' interests or limit them.
Active in the community, He is a member of the Greater Boca Raton Chamber of Commerce, and sponsors community events such as the Allianz Championship, a Champions PGA Tour event that benefits Boca Raton Community Hospital, and the Palm Beach County March of Dimes Signature Chefs & Wine Extravaganza. He also supports Stand Among Friends that promotes opportunities for people with disabilities to live a life without limits and experience the highest degree of independence and success in their communities; the Anti-Defamation League, the nation's premier civil rights/human relations agency that fights anti-Semitism and all forms of bigotry, defends democratic ideals and protects civil rights for all, as well as advocacy organizations that provide safe havens for victims of domestic violence such as Women In Distress of Broward County.
Joshua was born in New York and has called South Florida home for more than 25 years. Joshua and his wife Marcy are proud parents of two children, a daughter and a son.
Certified Legal Specialties
Florida Bar Board Certification for Family Law
Honors & Awards
National Association of Distinguished Counsel, Nation's Top One Percent, 2015, 2016, 2017, 2018
American Registry, America's Most Honored Professionals, 2018
National Academy of Family Law Attorneys, Top 10 Family Law Attorneys, 2017, 2018
Martindale-Hubbell Client Champion Award Silver Distinction, 2018
Florida Super Lawyers Rising Star 2011, 2012, 2013, 2014
Florida Super Lawyers 2015, 2016
Top Attorney in Florida 2013, 2014, 2015, 2016, 2017
Client Distinction Award 2014 and 2016
Best Attorney in Boca Raton as voted by the readers of the Boca Raton Times as seen in The Sun Sentinel 2007, 2009
National Advocates Top 100 Matrimonial and Family Lawyers 2014, 2015, 2016, 2017
American Institute of Family Law, Top 10 Family Law Firms 2016, 2017
South Florida Legal Guide, Florida Legal Elite 2016, 2017
Professional Associations
March of Dimes Event , Chair, 2011
March of Dimes Event , Sponsor, 2010