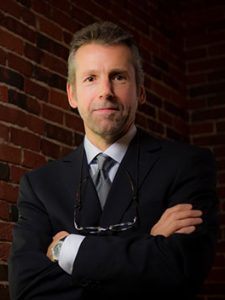 Kevin Dugan
Abramson Brown & Dugan 1819 Elm Street Manchester, NH 03104 Practice Area(s): Personal Injury, Medical Malpractice visit website
Biographical Information
Question & Answer
Q: You grew up in Florida and attended college and law school there. What made you come to New Hampshire in 1990?
A: In 1990, I met my law partner, Mark Abramson, through an unlikely but fortuitous turn of events. We had a lot in common personally and professionally, and my wife and I fell in love with New England and decided to put down roots here.
Q: You've been politically active in NH. As a trial lawyer, how have you influenced the political landscape in NH?
A: I happened to take over as legislative chairman for the NH Trial Lawyers Association several years ago at a time when the political and legislative landscape was very pro-business and anti-consumer. As a result, I became involved in many legislative battles involving civil rights and the civil justice system. We were fortunate to develop relationships with a few key people in the legislature who believed in the constitution and the civil rights of our citizens.
Q: Besides politics and the law, what other interests do you have?
A: I really enjoy the work I do and the people I work with. I am pretty content with the work I have and taking care of my family.
Q: You've been representing victims in medical malpractice cases for 25 years now. What have been the most significant shifts in the public's perception of these cases in that span of time?
A: The biggest thing I have noticed is that more people now recognize that we do not have a medical malpractice litigation crisis. What we have is a medical malpractice crisis. That is, there are far too many avoidable medical errors occurring. The solution is to reduce the rate of medical errors, not limit the rights of people hurt by those mistakes.
Q: How do you measure success?
A: My kids seem to like me for the most part. I think that's a good start.
Admission Dates & Jurisdictions
1985, Florida; 1986, U.S. District Court, Middle District of Florida; 1987, U.S. Court of Appeals, Eleventh Circuit; 1990, U.S. Supreme Court; 1991, New Hampshire and U.S. District Court, District of New Hampshire
Honors & Awards
AV rated – Preeminent – Martindale Hubbell
New England Super Lawyer 2007, 2008, 2009, 2010, 2011, 2012, 2013, 2014
Best Lawyers in America in Plaintiff's Medical Malpractice Law and Personal Injury Litigation: 2006, 2007, 2008, 2009, 2010, 2011, 2012, 2013, 2014
New Hampshire Top Attorneys 2006, 2007, 2008, 2009, 2010, 2011, 2012, 2013
Top Rated Medical Malpractice Lawyer by Boston.com
Best of US.Com – Best Lawyer in Personal Injury Law
Power List 2003 – Bartlett Report – PoliticsNH.com
Professional Associations
The Florida Bar; New Hampshire Bar Association; The Florida Justice Association; The American Association for Justice (Sustaining Member, Professional Negligence Section, Birth Trauma Litigation Group); New Hampshire Association for Justice (Member, Board of Governors, 1995-present; Secretary, 1996-1997; Treasurer, 1997-1998; President-Elect, 1998-1999; President, 1999-2000; Chairman, CLE Committee, 1996-1999; Chairman, Legislative Committee, 2000-2011; Recipient, President's Award, 2003; Board of Governors, Award, 1997 and 2011); Trial Lawyers for Public Justice; NHAJ Political Action Committee
Publications
"Holding Employers Liable for the Intentional Misdeeds of Their Employees: A Review of RespondeatSuperior in Personal Injury Actions," 39 TBN 151 (Fall 2014)
"The Attorney–Client 'Shield' in Medical Malpractice Cases Revisited: Why a Witness Knowledge of Facts is Not a Secret," 39 TBN 109 (Summer 2014)
"The Limited Role of Comparative Fault in New Hampshire Medical Negligence Cases" 39 TBN 35 (Winter 2014)
"New Hampshire's Self-Pay Discount Does Not Reduce the Available Damages in Medical Negligence and Personal Injury Cases," 38 TBN 11 (Spring 2013)
"Ethical Considerations in Medical Malpractice When Client Testimony and the Records Conflict" 37 TBN 97 (Spring-Summer 2012)
"Federal Law Limits Medicaid Reimbursement in New Hampshire Medical Negligence and Personal Injury Cases," 37 TBN 65 (Spring-Summer 2012)
"Recovering Medical Expenses in New Hampshire Personal Injury and Medical Malpractice Cases," 37 TBN 33 (Winter 2012)
"Unethical Demands in Settlement Agreements in Medical Malpractice Cases," 36 TBN 183 (Fall 2011)
"Limitations on Defense Medical Examinations of Injured Plaintiffs in Medical Malpractice and Personal Injury Claims,"36 TBN 121 (Summer 2011)
"Inadmissibility of Helmet Nonuse under New Hampshire Law," 33 TBN 85 (Spring 2011)
"Mismanaged Methadone Treatment: A Prescription for Personal Injury," 32 TBN 165 (Fall 2010)
"Expanding the DeBenedetto Disclosure Requirement in Multi-Defendant Civil Cases," 32 TBN 61 (Spring 2010)
"Broad Based Senate Bill for 'Tort Reform' Deemed Inexpedient to Legislate Consistent with National Trends," 32 TBN 121 (Summer 2010)
"Legislation Pending to Reform Screening Panel Process" 20 NH Bar News 10 (March 2010)
"Medical Liability in New Hampshire for Physician Assistant Negligence," 32 TBN 9 (Winter 2010)
"Case Spotlight: Strict Enforcement of DeBenedetto Disclosure Deadlines," 31 TBN 189 (Fall 2009)
"Maximizing Medical Malpractice Screening Panels Through the Use of Screening Panel Testimony at Trial," 31 TBN 129 (Summer 2009)
"Negligent Discharge of an Involuntarily Admitted Patient: Third Party's Cause of Action for Harm Caused by Prematurely Released Patient," 31 TBN 69 (Spring 2009)
"Broken Promises: Data Shows New Hampshire's Medical Malpractice Screening Panels Are Not Leading to Early Resolution and Cost Savings", 30 TBN 167 (Fall 2008)
"Update: Application of the Collateral Source Rule to Written Off or Reduced Medical Expenses", 30 TBN 71 (Spring 2008)
"Medical Malpractice Claims Against Public Health Service and Federally Funded Community Health Center Physicians: Practical Problems and Potential Pitfalls to Be Aware of," 30 TBN 17 (Winter 2008)
"Application of the Collateral Source Rule to Medical Expenses Written Off in Medical Negligence and Personal Injury Cases," 29 TBN 177 (Fall 2007)
"Screening Panels for Medical Injury Claims Under RSA 519-B: Implementation, Effect and Issues on the Horizon," 48 NHBJ 36 (Spring 2007)
"Medicaid Lien Repayment in Medical Malpractice Cases After Arkansas Department of Health and Human Services v. Ahlborn," 29 TBN 5 (Winter 2007)
"Pure Referral Fees: Insuring Client Confidence in Complex Personal Injury and Medical Malpractice Cases," 28 TBN 54 (Spring 2006)
"Medicaid Liens and Medicare Liens in New Hampshire Personal Injury and Medical Malpractice Litigation," 28 TBN 5 (Winter 2006)
"Dispelling the Myths of the Medical Malpractice Crisis and Vindicating the Victims of Medical Malpractice Through Attorney Conducted Voir Dire," 27 TBN 157 (Fall 2005)
"New Hampshire's Medical Malpractice Screening Panel Statute: Constitutional Considerations," 27 TBN 102 (Summer 2005)
"Protecting Privilege and Precluding Bad Doctors From the 'Bad Genes' Defense: The Non-Discoverable Nature of Medical Records of Related Third-Parties in Medical Malpractice Cases," 27 TBN 61 (Spring 2005)
"Vicarious Liability in Action: Holding a Hospital Liable for Malpractice of its Independent Anesthesiology Group," 26 TBN 110 (Summer 2004)
"Holding Hospitals Liable for the Malpractice of Independent Contractor Physicians," 26 TBN 162 (Fall 2003)
"Res Ipsa Loquitur and Medical Malpractice," 26 TBN 114 (Summer 2003)
"HMO Liability IV: Protecting the Patient and Preserving States' Rights," 26 TBN 64 (Spring 2003)
"Overcoming the Quality Assurance Privilege in New Hampshire Medical Malpractice Claims," 23 TBN 172 (Fall, 2001)
"Handling the Failure to Diagnose Breast Cancer Malpractice Case," 24 TBN 65 (Spring 2001)
"Birth Injury and Cerebral Palsy Malpractice Claims," 23 TBN 13 (Winter 2001)
"Medical Expense Discounts and the Collateral Source Rule," 22 TBN 89 (Spring 2000)
"Parental Consortium in Non-Death Cases," 21 TBN 161 (Fall 1999)
"HMO Liability Part III: Return of the Plaintiffs," 21 TBN 67 (Spring 1999)
"Fear of Future Harm in Medical Malpractice Cases," 20 TBN 132 (Fall 1998)
"HMO Liability: Building Corporate Profits at the Expense of Patient Care," 19 TBN 144 (Winter 1997)
"HMO Liability Part II: ERISA Preemption … And the Saga of Corporate Greed Continues," 19 TBN 44 (Summer 1997)
"The Law of Nursing Malpractice," 18 TBN 7 (Spring 1996)
"Recent Developments in Hospital Liability," 16 TBN 129 (Fall 1994).