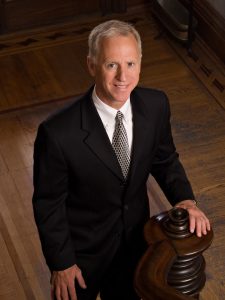 Lee C. Christie
Cline Farrell Christie Lee & Bell P.C. 951 North Delaware Street Indianapolis, IN 46202 Practice Area(s): Personal Injury, Medical Malpractice call (317) 488-5500 fax (317) 488-5510 email Lee@cfclb-law.com visit website
Biographical Information
Lee is a Fellow of The American College of Trial Lawyers, a Top 10 Super Lawyer in Indiana and is also the 2014 Best Lawyer in Indianapolis, the Indianapolis Lawyer of the Year for Mediation as well as the 2014 Best Lawyer, Indianapolis Lawyer of the Year for Arbitration. His practice focuses on trucking collision cases, wrongful death, medical malpractice and alternative dispute resolution.   He received a $30.5M Verdict for his client in a garage door negligence case in 2014, as well as many other multi-million dollar verdicts and settlements.
Lee is committed to maximizing tort recoveries for accident affected victims. He has extensive trial experience in both federal and state court and is a frequent lecturer on trial,  personal injury, medical malpractice, trucking accidents, and settlement issues.
Lee is a member of the Indiana Trial Lawyers Association, the American Association for Justice, the Interstate Trucking Litigation Group,  Academy of Truck Accident Attorneys,  and Association of Plaintiff Interstate Trucking Lawyers of America.
Lee is passionate in representing his clients and takes pride in the relation-ships he develops. He is a lifelong resident of Indianapolis, where he attended Arlington High School, Indiana University and Indiana University-Indianapolis Law School. He was admitted to practice law in Indiana and to the U.S. District Court for the Southern District of Indiana in 1982.
Admission Dates & Jurisdictions
Indiana, 1982
U.S. District Court for the Northern District of Indiana
U.S. District Court for the Southern District of Indiana
Education
Indiana University, B.S., 1978
Indiana University, J.D., 1982
Professional Experience
Seminar and Conference Attendance
Vioxx Litigation (Philadelphia, PA), 2005
Vioxx Trial-ATLA Mock Trial, 2005
Litigating Catastrophe Injury Cases (Boston, MA), 2009
Wrapping Up the Case-Liens & Medicare, 2009
Advanced Trial Advocacy College, 2009
Litigating Truck Collision Cases
Honors & Awards
American College of Trial Lawyers
President, Indianapolis Bar Foundation (2020)
2014 Top 10 Indiana Super Lawyer
Top 50 Indiana Super Lawyers, 2005–2020
Indiana Super Lawyers, 2004-present – Honored every year since the award's inception
The Best Lawyers in America, 2005–2020
Best Lawyers® 2014 Mediation "Lawyer of the Year" in Indianapolis
Best Lawyers® 2012 Arbitration "Lawyer of the Year" in Indianapolis
Martindale Hubbel highest AV rating, 1983–2020
Professional Associations
American College of Trial Lawyers
Interstate Trucking Litigation Group
Academy of Truck Accident Attorneys
American Association of Justice (AAJ)
Heart Device Litigation Group
Vioxx Litigation Group
Association of Plaintiff Interstate Trucking Lawyers of America
Indiana Trial Lawyers Association (ITLA)
College of Fellows Indianapolis Bar Association
Litigation Section Indiana State Bar Association
Advanced Studies in Trial Advocacy
Fellow-National College of Advocacy
Verdicts & Settlements
2014 jury verdict for $30.5M in a garage door negligence case.    Parker v. Professional Garage Doors, Marion County Circuit Court, Cause Number 49C01-0707-CT-029811
Representative Cases
Cole v. Lantis Corp., 714 N.E.2d 194 (Ind. App. 1999)
Hanson v. St. Luke's, 704 N.E.2d 1020 (Ind., 1998)
Porter v. Irvin's Interstate Brick & Block, 691 N.E.2d 1363 (Ind. App. 1998)
Speaking Engagements
Punitive Damages in Indiana (ICLEF), 1983
Indiana Discovery, Pretrial & Trial Procedures (PESI), 1988
Indiana Evidence Workshop, 1989, Co-chairman
Uninsured and Underinsured Motorists Coverage, 1990
Indiana Insurance & Tort Law Update (PESI), 1994
Expert Witnesses (Lorman), 1996
Alternative Dispute Resolution for Paralegals (I.P.E.), 1999
Indiana Discovery Pre-Trial and Trial Procedures (PESI), 1999
Evaluating and Settling Personal Injury Claims (PESI), 2001
Evaluating and Settling Personal Injury Claims (PESI), 2002
How to Maximize Personal Injury Damages (PESI), 2003
Winning Ways w/Direct & Cross Examination (NBI), 2005
Premises Liability-Slip, Trip and Fall Cases, 2005, Chairman
Civil Arbitration-Indianapolis Bar Association, 2007
Child Wrongful Death-Indianapolis Bar Association, 2007
Expert Witnesses-Indianapolis Bar Association, 2007
Indiana Continuing Legal Education-Truck Accident Litigation, 2008
Essential Discovery in Trucking Litigation
Evaluating and Settling Personal Injury Claims (PESI), 2008
ICLEF-Winning before Trial, 2008
ITLA-Advanced Civil Mediation Training, 2009, 2013
Indianapolis Bar Association-Medicare and Medicaid, 2010
ITLA-Applied Professionalism, 2010–2013
Professionalism and Civility in your Practice
Civility in the Court
ICLEF-Trucking Litigation Seminar, 2011
ICLEF-Presenting Catastrophic Injury Damages at Trial (Chair), 2012
ICLEF-Trial Evidentiary Issues (Chair), 2019
Indianapolis Legal Aid Society Conference Speaker (2014-2020)
Publications
"How to Defend a Celebrity in a Breach of Contract Case," Trial Diplomacy Journal, co-author, 1987
Service Activities
Lawrence Township Ladies Basketball League (2004-2014), President
YMCA Indianapolis Leadership Forum
Indianapolis Legal Aid Society Board of Directors
Indianapolis Bar Foundation President, 2020