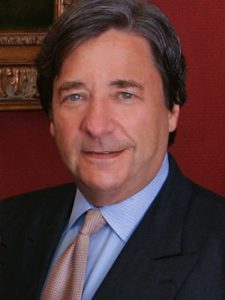 Mark S. Davis
Davis Levin Livingston 400 Davis Levin Livingston Place 851 Fort Street 4th FL Honolulu, HI 96813 Practice Area(s): Personal Injury visit website
Biographical Information
Mark Davis has been recognized as one of the best trial lawyers in Hawaii and in the United States. Mr. Davis, a graduate of Tulane University and Washington University School of Law, has focused his law practice over the last thirty years representing injured victims in cases involving serious personal injury and medical malpractice. He has achieved record verdicts and settlements in Hawaii for numerous cases over the course of his career.
Mr. Davis has been recognized as preeminent in his practice by his fellow attorneys in both the plaintiffs and defense bar. He is listed in The Best Lawyers in America and was elected to membership by his peers in The American College of Trial Lawyers, The International Academy of Trial Lawyers, The International Society of Barristers, and The American Board of Trial Advocates. He is one of only 100 lawyers in America and the only lawyer from Hawaii who is a member of The Inner Circle of Advocates, which requires each member to have tried at least fifty cases to a jury. He is a twenty-year member of The Board of Governors of The American Association for Justice.
Mr. Davis has been extremely active in civil rights litigation throughout the State of Hawaii. He was on The National Board of Directors of the ACLU and was one of Hawaii's most active civil rights lawyers serving as lead counsel in numerous first amendment, discrimination, and equal rights cases. Mr. Davis' practice frequently included representation of the "little guy," the victim, the disenfranchised, and the prisoner. He successfully had city and state laws struck down by federal courts that prohibited unconventional religious activities disproportionate treatment for non-residents, women, and minorities. He tried the first Title VII employment discrimination case ever brought to trial in the Hawaii Federal Court. In recent years, he has lectured and written on the subject of trial advocacy and is an Adjunct Professor at the University of Hawaii Law School.
He is listed in both Best Lawyers in America and Honolulu Magazine's listing of Hawaii's Best Lawyers.
Mr. Davis has been awarded the Fritz Wiedemann and James Anthony Wysocki medal by the Association of Trial Lawyers of America (ATLA) for his commitment to the civil justice system and in recognition of his contributions to ATLA.
Recently, Mark S. Davis was honored as a 2014 distinguished law alumni by his alma mater, Washington University Law School in St. Louis.
Practice Areas
Class Actions
Civil Rights
Consumer Rights
Insurance Bad Faith
Medical Malpractice
Personal Injury
Mr. Davis was born in Tulsa, Oklahoma on September 6, 1949.
Admission Dates & Jurisdictions
1974 Hawaii Supreme Court
1974 U.S. District Court, District of Hawaii
1974 Ninth Circuit Court of Appeals
1975 U.S. Court of International Trade
1976 U.S. Court of Customs and Patent Appeals
1979 U.S. Supreme Court
Education
Southampton University, England, 1969-1970
Tulane University

B.A. cum laude, with honors in Political Science, 1971.
Washington University (J.D., 1974).

Law Review: Associate Topics Editor, Urban Law Annual, 1973-1974.
Honors & Awards
Mr. Davis was honored as a 2014 Distinguished Alumni from his alma mater, Washington University Law School in St. Louis
Selected 2012 Best Lawyers In America
Selected 2009 Lawyer of the Year
Member and President-Elect of the Inner Circle of Advocates – "100 of the Best Plaintiff Lawyers in America".
Selected as A+ Attorney by Honolulu Magazine, 1993
Listed, "Best Lawyers in America" (since 1991 Editions and all subsequent)
Professional Associations
 Inner Circle of Advocates (1997)
 Fellow, American College of Trial Lawyers (inducted 1992)
 Founding Fellow, Hawaii Academy of Plaintiffs Attorneys
 Fellow, The Roscoe Pound Foundation
 President, Consumer Lawyers of Hawaii (1998-99)
 Governor and Hawaii Representative to the National Board of Governors of the American Association for Justice (AAJ) (1988- )
 Life Member, American Association for Justice (AAJ)
Lawyer Representative, Ninth Circuit Judicial Conference, (appointed for three year term 1993-96)
Member, Chief Justice's Commission on Lawyer Professionalism
Delegate (1989-92), Hawaii Federal Judicial Mini-Conference
Delegate, (1986-89) First Hawaii State Judicial Conference
Director, National Board of Directors American Civil Liberties Union (1982-85)
Graduate, National College of Advocacy Advanced Course in Trial Advocacy (1987)
Member, Hawaii Medical Association Medical Legal Committee. (1985)
Chairman, Hawaii State Bar Assoc. Committee on Attorney Solicitation and Advertising (1990-)
Chairman, 1991 Mid-Winter Convention of American Association for Justice (AAJ)
Member, Public Affairs Committee,American Association for Justice (AAJ) (1991- )
Member, Litigation Com. and Volunteer Attorney of the American Civil Liberties Union of Hawaii
Editor, Hawaii State Bar Association Motor Vehicle Collision Manual
Director, Hawaii Institute of Continuing Legal Education
Counsel, Presidential Campaign of Jimmy Carter for State of Hawaii (1976)
Recipient, Research Grant, Law Students Civil Rights Research Council (1973)
Researcher/Counsel's Staff, U. S. House Judiciary Committee on Impeachment (1974)
Chairman, Committee on Courts, Association of Trial Lawyers of America (1996-7)
Chairman, Ad Hoc Com. on Discipline of United States District Court, District of Hawaii (1997)
Governor, Western Trial Lawyers Association (1998-)
Speaking Engagements
Speaker, "High Crimes and Misdemeanors: The Legal Basis For Impeachment" Public Affairs Council of Washington, D.C. (1974).
Speaker, NBE Course, "Personal Injury Litigation Practice in Hawaii" (1988)
Speaker, NBE Course, "Medical Malpractice in Hawaii" (1988)
Speaker, Hawaii State Chiropractic Convention (1987), "Chiropractic Malpractice: New Developments in the Law"
Speaker, "Confidentiality of Medical Records", (June 16, 1988) Continuing education for American Medical Record Association
Speaker, ABA National Convention (Aug. 7,1989), "The Next Legal Frontier for People With Disabilities: Actions For Damages"
Lecture, Medical Staff St. Francis Hospital, Honolulu, Hawaii, "Deposition: Pointers for the Healthcare Provider" (July 27, 1989)
Speaker, Hawaii State Bar Association, Hawaii Institute For Continuing Legal Education, "Litigation Workshop: Winning the Battle of the Experts" (November 17, 1989)
Lecture, International Nursing Conference, Honolulu, Hawaii June 12, 1990, "Legal Liabilities and Nursing Malpractice"
Speaker, "Depositions: Strategies, Tactics and Mechanics" P.E.S.I. seminar February 15, 1990
Speaker, "Confidentiality of Medical Records" Lorman Business Center, Inc. Seminar Honolulu, Hawaii  June 13, 1990
Lecturer, "Punahou Advanced Placement Course on First Amendment"
Speaker, ATLA National Convention (July 22, 1990 San Diego), "Litigating the FTCA Case: The Plaintiffs' Perspective"
Speaker, ATLA Mid-winter Convention (January, 1991, Maui, Hawaii), "Handling Abusive Discovery Tactics: A Strategy For Response"
Speaker, "Hawaii Evidence Workshop" P.E.S.I. seminar April 19,1991
Speaker, North Carolina Academy of Trial Lawyers, Masters in Advocacy Program, Myrtle Beach, South Carolina (June 15, 1991),  "Handling Abusive Discovery Tactics; A Strategy for Response"
Speaker, Melvin Belli Seminar, (AAJ Convention) Toronto, Canada (July 20, 1991),  "Abusive
Discovery Tactics"
Speaker, Fourth Annual Seminar on Tort Law, Pacific Law Institute, Honolulu, Hawaii (September 14, 1991),  "New Developments in Medical Malpractice"
Speaker, "Hawaii State Training Program for Court Arbitrators" Pacific Law Institute, Honolulu, Hawaii (May 20, 1992)
Speaker, "Hawaii Evidence Workshop" Professional Education Systems, Inc. (December 4, 1992)
Speaker, "Financing Telecommunications Development: A Local Perspective" Pacific  Telecommunications Conference, Honolulu, Hawaii (January 19, 1993)
Panelist, "Modifications to the New Rule 26 of the Federal Rules of Civil Procedure"  Mini-Federal
Judicial Conference, U. S. District Court for the District of Hawaii,  Honolulu, Hawaii (April 16, 1993)
Speaker, "Bad Faith Litigation from the Plaintiff's Perspective" Recent Developments in Insurance Law Seminar, Lorman Business Seminars, Hyatt Regency Hotel, Honolulu, Hawaii (April 22, 1993)
Moderator, "Improving Judicial Relations with Congress: Should Federal Judges Speak out on Policy Issues" Panel Discussion U. S. District Court Mini Judicial Conference, Kahala Hilton Hotel, Honolulu, Hawaii May 20, 1994
Speaker, "Evidence In The Courtroom" Pacific Law Institute, May 26, 1994 Honolulu, Hawaii
Moderator, "Cutting Edge Practice Pointers: Discovery & Pretrial Strategy"  Hawaii Institute For Continuing Legal Education, May 27, 1994, Honolulu, Hawaii
Speaker, "Litigating Professional Negligence Claims Against the U.S. Government: Tactical Considerations" AAJ National Convention, Professional Negligence Section, Hyatt Regency Hotel, July 26, Chicago, Illinois
Speaker, "Emotional Distress Damages in Hawaii" Hawaii Bar Association Convention, Seminar on Causation and Damages in Civil Cases, Ilikai Hotel, Honolulu, Hawaii   December 1, 1994
Speaker, "The Intuitive Art of Cross Examination" Western Trial Lawyers Convention, Kapalua Ritz Carlton Hotel, June 15, 1998
Speaker, "Changing The Rules: Innovative Trial Techniques That Work" Weekend With The Stars, AAJ seminar, New York, New York, December 9, 2007
Publications
Books
Davis, Mark S., Carlson, Ronald J., A Citizen's Guide to Impeachment, an unpublished manuscript, (1974)
Wong, Michael J.Y., Davis, Mark S., Duffy, James E., Komeiji, John T., Editors, The Hawaii Motor Vehicle Collision Manual, Hawaii Institute for Continuing Legal Education, Hawaii State Bar Association. (1990)
Wong, Michael J.Y., Davis, Mark S. et.al., Editors, The Hawaii Motor Vehicle Collision Manual 1994 Update, Hawaii Institute for Continuing Legal Education, Hawaii State Bar Association. (1994)
Articles
"Class Action Benefits Consumers", TRIAL Magazine page 24 (April 1997)
"Making the System Deliver Justice", 27 CAOC FORUM page 28 (January/February 1997)
"What You Need to Know About Emotional Distress Damages", Hawaii Institute For Continuing Education, Materials on Causation and Damages In Civil Cases (1994)
"Handling Abusive Discovery Tactics: A strategy for Response", 1991 AJA National College of Advocacy Reference Manual 19 (1991)
"Handling Abusive Discovery Tactics", 10 Products Liability L. Rptr. 152 (October, 1991)
"Litigating the Federal Tort Claim Case: Tactical Considerations", 1990 A National College of Advocacy Reference Manual 869 (1990)
"Privacy Considerations in Medicaid Fraud Investigations: The Unwarranted Paper Chase", 32 The Clinical Psychologist 19, Spring 1979
"The Ports and Waterways Safety Act of 1972: An Expansion of the Federal Approach to Oil Pollution", 6Journal of Maritime Law and Commerce 249, 1975
"Standing to Challenge Housing Discrimination: The Limits of Trafficante v. Metropolitan Life", 7 Urban Law Annual 31, 1974
Papers
"Identifying the Million Dollar Case: Initial Consideration in Accepting the Personal Injury Case;" "Evaluating Settlement Proposals"
"Assessing and Evaluating the Malpractice Case: Practical Considerations; Prosecution of a Malpractice Case – Trial Pointers: Plaintiff's Perspective"