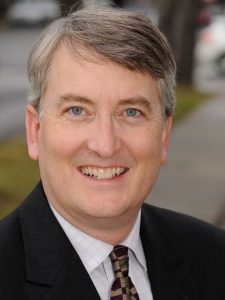 Nathan D. Alder
Christensen & Jensen PC 257 East 200 South, Suite 1100 Salt Lake City, UT 84111 Practice Area(s): Civil Litigation visit website
Biographical Information
Nate Alder litigates, tries, and resolves complex civil cases. His focus is successful outcomes for clients. He is recognized as one of the Top 100 lawyers in the five-state Intermountain West (Idaho, Montana, Nevada, Utah, and Wyoming), and as one of the Top 25 lawyers in Salt Lake City (Super Lawyers/Thomson Reuters). Utah Business magazine has named him one of the state's "Legal Elite" and as one of the state's top mediators. He received his peer-reviewed AV Preeminent rating from Martindale-Hubbell in 2005. Nate has served as the elected president of the Utah State Bar (2008-2009), the 16-state Western States Bar Conference (2012-2013), and the National Caucus of State Bar Associations (2014 – 2015).
Nate is a leader and currently serves on: the Judicial Performance Evaluation Commission (appointed by Governor Herbert); House of Delegates, American Bar Association; Executive Council, National Conference of Bar Presidents; Utah State Bar Commission; and the Salt Lake City Police Foundation Board of Directors. His past service includes two Utah Supreme Court advisory committees, an ABA standing committee, the Utah Council on Conflict Resolution (chair), Utah's Dispute Resolution Section (chair), Utah's Young Lawyer's Division (president), the Personal Injury Section of the J. Reuben Clark Law Society (chair), and Utah State Bar Commission (elected commissioner).
AREAS OF PRACTICE
Commercial Litigation and Crisis Management: Advises and represents individuals and corporations in commercial cases and hot button disputes. Representative matters include:

Represented corporations and professionals in matters involving joint ventures, asset purchases, licensing and intellectual property claims, non-competition agreements, fiduciary obligations, theft, proprietary information, and business contracts and commercial leases
Represented an international corporation in a mass shooting case
Defended national software company being prosecuted by the State of Utah for antitrust violations
Served as Special Master in a major commercial dispute
Hired by political party to handle TRO relating to an election
Hired by a foreign government to enforce international treaty provision
Responded to accident scenes to preserve evidence and establish litigation strategies.

Professional: Handles cases regarding professionals, including claims against lawyers, medical providers, insurance brokers, engineers, designers, financial executives, board members, and corporate officers. Representative matters include:

Assisted physician in obtaining reinstatement of license
Defended engineers in soils testing / construction case
Resolved dispute between insured and broker regarding representations about coverage
Resolved claims against medical providers
Defended board chairman, CFO, and other leaders of corporations in fiduciary cases

Catastrophic Personal Injury: Handles cases involving traumatic brain injury, spinal cord injury, wrongful death, eye injuries and other significant injury claims. Representative matters include:

Obtained seven-figure settlement for injured plaintiff with mild-to-moderate traumatic brain injury who was able to return to work and receive promotions
Obtained seven-figure settlement for plaintiff involved in auto-pedestrian accident
Obtained seven-figure settlement for plaintiff in motorcycle accident
Obtained multiple settlements for family members in vehicle rollover accidents
Obtained six-figure settlement for plaintiff injured in equestrian accident
Obtained significant six-figure policy limits settlement for ankle injury
Obtained policy limits and other significant settlements for dog attacks
Obtained numerous policy settlements for injured drivers, passengers, pedestrians and cyclists in auto accidents
Obtained seven-figure settlement in highway design case

Product Liability Defense: Defends cases involving motor vehicles, machinery, appliances, chemicals, tools, household items, exercise equipment, furniture, component parts, agribusiness, and other claims involving manufacturing processes, design, warnings, and fines. Representative matters include:

Defended automaker in various claims involving rollover protection, roof crush, safety restraint, air bag deployment, stability handling, sudden acceleration, etc.
Defended fertilizer companies in multi-million dollar crop destruction claims
Defended product manufacturers in asbestos litigation
Defended tool manufacturer in alleged defect claim arising from eye injury
Defended parts manufacturer in multi-million dollar brain injury claim
Defended recreation equipment maker in spine injury case

Dispute Resolution: Mediations with Nate are scheduled through Utah ADR Services, 801-943-3730,www.utahadrservices.com. Nate is a Qualified Mediator (Utah State Court Roster of Mediators) and received his mediator training at the Straus Institute for Dispute Resolution at Pepperdine University's School of Law in Malibu, California.
Admission Dates & Jurisdictions
Admitted to practice in all Utah state and federal courts, U.S. Court of Appeals, Tenth Circuit, U.S. Supreme Court
Education
Indiana University-Bloomington School of Law, J.D., 1995
Indiana University-Bloomington School of Public and Environmental Affairs, M.P.A., 1995
Utah State University, Bachelor of Arts, University Honors, cum laude, Phi Kappa Phi, 1991
Dixie State College, Associate of Arts, summa cum laude, Phi Theta Kappa, 1988
Honors & Awards
AV Rated, Martindale-Hubbell, 2005 to present
"Top 100 Lawyers" in the Intermountain West (Utah, Idaho, Nevada, Montana, and Wyoming), Super Lawyers Magazine/Thomson Reuters, 2011-2014
"Utah Legal Elite" recognition by Utah Business magazine. Recognitions include: Civil Trial, 2006; Personal Injury, 2004, 2005, 2007-2011, 2013; Pro Bono, 2005; Mediator, 2012
"Super Lawyer" recognition, 2007-2014
Raymond S. Uno Award for the Advancement of Minorities in the Legal Profession, 2011
"Top 25 Lawyers" in Salt Lake City, Super Lawers/Thomson Reuters, 2012, 2013
Professional Associations
President, National Caucus of State Bar Associations, 2014-2015
President, Western States Bar Conference, 2012-2013
President, Utah State Bar, 2008-2009
Co-founder, Dispute Resolution Section, Utah State Bar
Chair, Utah Council on Conflict Resolution, 2010-2011
Board of Bar Commissioners, Executive Committee, Utah State Bar, 2003 – 2010
Utah Supreme Court Advisory Committee on Professionalism, 2001 – 2014
Utah Supreme Court Advisory Committee on New Lawyer Training, 2010 – 2014
Standing Committee on Professionalism, American Bar Association, 2011- 2014
American Bar Association, Sections: Tort Trial and Insurance Practice; Litigation; Dispute Resolution
Judge Pro Tem, Salt Lake City Justice Court, 2002 – 2008
Bar Examiner, Utah State Bar, 2003 – 2007
Defense Research Institute
Salt Lake County Bar Association
Federal Bar Association, Utah Chapter
Utah Defense Lawyers Association
Utah Association of Justice
Brain Injury Alliance of Utah
ALFA International
Speaking Engagements
Speaker, "Negotiations: Why the Deal is the Real Deal," Utah Council on Conflict Resolution, 2012
Speaker, "Deposing a Brain Injured Plaintiff," Brain Injury Conference, 2012
Speaker, "New Lawyer Training," Western States Bar Conference, 2012, Nevada
Presenter, "Evidence Seminar: Experts," National Business Institute, 2012
Presenter, "Personal Injury 101: Damages, Liens, Insurance," National Business Institute, 2012
Speaker, "Anatomy and Physiology for Attorneys," National Business Institute, 2011
Speaker, "Professional Practice Pointers," Utah State Bar, 2011, 2012
Presenter: "New Lawyer Training," Oregon State Bar, 2010
Speaker: "Oral Persuasion for Lawyers," Utah State Bar, 2010
Speaker, "Brain Injury: A View from Both Sides of the Fence," Brain Injury Conference, 2010
Speaker, "Legal Writing Seminar," Utah State Bar, 2009, 2012
Speaker, "ADR Systems for Institutions," Utah Council on Conflict Resolution, 2009
Speaker, "Defense Perspectives on Brain Injury Litigation," Brain Injury Conference, 2009
Speaker, "Utilizing Paralegals," Utah State Bar Annual Convention, 2008
Speaker, "Mediation Musings: Stories, Tips, Trends," Utah State Bar Annual Convention, 2007
Speaker, "Rule 35 Medical Exams," Utah Association of Justice, 2003.
Speaker, "Direct Examination of a Neuropsychologist," Utah Brain Injury Conference, 2003.
Faculty, "ADR Academy," Dispute Resolution Section, Utah State Bar, 2002, 2004, 2006, 2010
Publications
Author, "Avoiding Prohibited Statements at Trial," Utah Trial Journal, 2012
Author, "Are 'Peace of Mind' Letters Discoverable After Green v. Louder?" Utah Trial Journal 2005