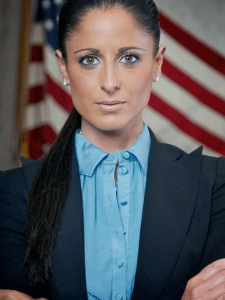 Biographical Information
Nicole Blank Becker of Blank Law, PC is a powerhouse in the field of law and has a unique skill set that sets her apart from every other Michigan defense attorney.
Prior to going into private practice, Nicole was a prosecutor given the awesome responsibility of running the Sex Crimes Unit and the Child Abuse Unit for years in Macomb County, Michigan.
With Lawyer Nicole Blank Becker's prior experience as Chief of Sex Crimes Unit and Child Abuse Crimes Unit in Macomb County, she has been on both sides of the law for the past 20 years. Her journey as a successful attorney started in law school at Wayne State University. After graduating in 2000, she started he career as a defense attorney, then an assistant prosecutor, and now back to private practice as a defense attorney focused solely on your sex crime and criminal sexual conduct cases. As an experienced sex crimes lawyer, Nicole is aggressive and knows exactly how to navigate the system having handled thousands of sexual abuse crimes and criminal sexual conduct cases in Michigan, and throughout the United States.
Nicole's experience in Macomb County as Chief of Sex Crimes Unit and Child Abuse Unit in Michigan puts her in a unique position of already knowing the prosecutions' next move. As the Chief of the Sex Crimes Unit, Nicole was the one who was in charge of teaching other prosecutors and police officers how to approach a sex offense charge, how to investigate a sex offense charge and how to handle all the ins and outs of sex crime and criminal sexual conduct cases.
No other Attorney in Michigan can say the same! That makes Nicole a Powerhouse focused on your sex crime case.
Admission Dates & Jurisdictions
State Bar of Michigan
Year: 2000-Current
Education
School Name: Wayne State University Law School
Degree: JD – Juris Doctor
Year Graduated: 2000
Professional Experience
Criminal Defense Lawyer at My Own Firm – Blank Law, P.C.: 2018-Present
Chief of the Sex Crime and Child Abuse Units at the Macomb County Prosecutor's Office: 2014-2018
Assistant Prosecutor at the Macomb County Prosecutor's Office: 2006-2013
Assistant Prosecutor at the Wayne County Prosecutor's Office: 2002-2005
Defense Lawyer at the Legal Aid Defender Office: 2000-2001
Honors & Awards
The National Trial Lawyers of America Top 100
America's Top Attorneys Top 100
Best Attorneys of America
Professional Associations
American Association for Justice Member
National Association of Criminal Defense Lawyers Member
Criminal Defense Attorneys of Michigan Member
National Lawyers Guild Member
National Trial Lawyers' Criminal Trial Lawyers Association Member
National Trial Lawyers Association Member
State Bar of Michigan Mamber
Press
Speaking Engagements