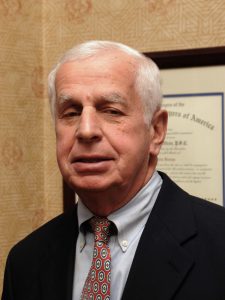 Peter Perlman
Peter Perlman Law Offices, P.S.C. 388 South Broadway Lexington, KY 40508 Practice Area(s): Personal Injury, Products Liability visit website
Biographical Information
Peter Perlman is admitted to the bar in Kentucky, the U.S. District Courts for the Eastern and Western Districts of Kentucky, and the U.S. Supreme Court. He attended Duke University, and received his undergraduate and law degrees from the University of Kentucky. His areas of practice are personal injury, civil litigation and products liability.
Peter is a member of the Inner Circle of Advocates, a member of the International Society of Barristers, a fellow of the International Academy of Trial Lawyers, has served on the Board of Trustees of the National Judicial College and is a founding member and past President of the Trial Lawyers for Public Justice. He is also past President of the Association of Trial Lawyers of America, the Civil Justice Foundation, and the Kentucky Academy of Trial Attorneys.
He is a member of the University of Kentucky College of Law Alumni Hall of Fame and the author of numerous publications, including the book, Annotated Opening Statements..
He has won more than 50 multi-million dollar verdicts and settlements. Pete has been told by judges and opposing lawyers that his greatest strength is his ability to simplify fairly complicated issues. Pete frequently uses analogies, country music, proverbs, and other similar methods to help tell the story to the jury.
The Peter Perlman Outstanding Trial Lawyer Award is given annually by the Kentucky Justice Association. This prestigious award is bestowed upon an attorney who has demonstrated exceptional talent, fights for the rights of consumers, and gives back to the legal profession.
Peter received the "President's Award" at the annual AIEG (lawyers specializing in crashworthiness cases) meeting last November. The award was in recognition of successful efforts to force General Motors and Chrysler to assume liability for all vehicles involved in collisions after bankruptcy. The award states in part "you are true hero to the tens of millions for whom you fought for accountability from the auto manufacturers."
Personal
Married to the former Lana Day Coyle; three children: Pamela, Patrice and Penne; four grandchildren: Sarah, Jacob, Jack and Nick
Areas of Practice
Product Liability, Catastrophic Personal Injury and Crashworthiness
Litigation Percentage
100% of Practice Devoted to Litigation
Admission Dates & Jurisdictions
Kentucky, 1962
U.S. District Court Eastern District of Kentucky
U.S. District Court Western District of Kentucky
U.S. Supreme Court
Education
University of Kentucky College of Law, Lexington, Kentucky J.D. – 1962
Duke University College of Law
University of Kentucky, Lexington, Kentucky  A.B. – 1959
Honors & Awards
Received "AV" Rating from Martindale Hubbell, Inc., 1979 – Present
Selected to University of Kentucky College of Law "Alumni Hall of Fame", 1988
Kentucky Justice Association has Honored the Outstanding Trial Lawyer, "Peter Perlman Outstanding Trial Lawyer Award"
An Endowment Scholarship was Established in Peter's Name at the UK College of Law, 1999
Selected by Super Lawyers as one of Kentucky's Top 10 Attorneys in 2007 and 2008; Profiled in 2007 Edition
Former President Kentucky Chapter of American Board of Trial Advocates; Limited to Outstanding Lawyers as Selected by their Peers
Selected to Give Commencement Address at Graduation Ceremonies of the University of Kentucky College of Law and Northern Kentucky College of Law
Selected as a Fellow of the International Academy of Trial Lawyers
Selected as Member of the International Society of Barristers
Selected by the American Bar Association to serve on Board of Trustees of the National Judicial College
Southern Trial Lawyers' Association War Horse Award, 1995
Listed in Best Lawyers of America since its publication in 1986, 1986
Tommy Malone Great American Eagle Award
Selected as Outstanding Young Man of Lexington, and One of Five Outstanding Young Men of Kentucky
University of Kentucky Fellow, 1972 – Present
Henry Stites Barker Fellow, 2006
Henry T Duncan Award, 2010 – Present
Civil Justice Foundation's Award, "Champion of Justice"
Professional Associations
Kentucky Justice Association, Former President
Kentucky Chapter of American Board of Trial Advocates, Former President
American Association for Justice, President, 1985 – 1986
President, Trial Lawyers for Public Justice, 2000 – 2001
Civil Justice Foundation, President, 1989
Inner Circle of Advocates, Member, 1984 – Present
Past Employment Positions
Fayette County, Assistant Commonwealth Attorney, 1965 – 1968
Verdicts & Settlements
Served as lead counsel in cases brought in the following states: Arkansas, Florida, Indiana, North Carolina, Ohio, South Carolina, South Dakota, Tennessee, Maryland, Texas and West Virginia
Served as lead counsel in over 50 cases where the verdict or settlement exceeded seven figures; many have emphasized consumer safety
Served on "trial team" and Steering Committee of litigation involving Comair 5191 crash in Lexington (2007-08)
Warner v. Rifle Coal, (Fleming County, Ky.); death of Fleming County resident; struck improperly placed construction equipment in detour (2008)
Burke v. U-Haul, (Fed. Ct., Louisville), $11.5 Million verdict; case involved rented tow dolly not suited for rental combination; caused rollover of vehicle and paraplegia to driver's wife; case received extensive publicity; was featured in article in L.A. Times) (2007)
Buckman v. Avery Dennison, (Nelson County, Ky.); driver of Explorer struck road reflector in highway; caused rollover of vehicle and death of driver (2007)
Hebert v. Chrysler, (Fayette County, Ky.); rollover of 15-passenger van during routine driving maneuvers; driver of van became quadriplegic (2006)
Bowling v. Mt. Sterling Water District, et al., (Montgomery Circuit Court); death of commercial diver who was sucked into and trapped in an intake pipe which was part of a reservoir expansion (2005)
Aldridge v. Chrysler, (Boone Circuit Court, W.Va.); Jeep Cherokee struck in side by another vehicle, rolled over, and ejected driver of Jeep; case involved design of seatbelt and occupant containment safety (2005)
Robins v. LFUCG, (Fayette Circuit Court); Eleven year old boy stopped in crosswalk in Hartland Subdivision; he was struck and killed by a city garbage truck (2004)
Vaughn v. Chrysler, (Clay Circuit Court); Stephanie Vaughn and her four children were struck by another vehicle on the Daniel Boone Parkway; case concerned intrusion into the passenger compartment of the Vaughn minivan; defects included lack of a side guard beam and structural failures within the passenger compartment (2004)
Armstrong v. Bee-Line, (Jefferson Circuit Court); Louisville Mayor struck and injured en route to work by vehicle operated by Bee-Line Courier Service; case received extensive media coverage prior to and during trial (2002)
Golden v. Chrysler, (Pickens County, S.C.); Kim Golden stepped out of her stopped minivan at a neighbor's driveway; the minivan's transmission jumped from "park" to "reverse" and ran over her and killed Kim and her unborn twins. The case received extensive publicity and was featured on Good Morning America and Primetime Live (2001)
Speaking Engagements
Adjunct Professor, UK College of Law, 1979 – 2004
Publications
"Closing Arguments, Volume I and Volume II", 2006
"Opening Statement", 1994
"Opening Statement, Annotated", 1994
"Fighting for Public Justice – Cases and Trial Lawyers that made a Difference", 2001
Service Activities
Volunteer Childrens' Activities – Served as Big Brother
Served as President of Junior Achievement
Coach of Calvary Baptist Church
Chair, Development and Funding for Playground for Children at Cardinal Hill Hospital
Member, Lexington Rotary Club, 1972 – Present
President of Lexington Jaycees
Vice President of Kentucky Jaycees