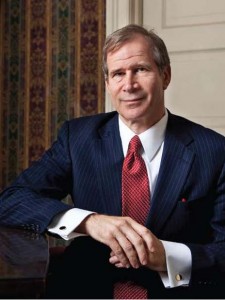 Richard S. Jaffe
Jaffe & Drennan P.C. 2320 Arlington Avenue South Birmingham, AL 35205 Practice Area(s): Criminal Defense visit website
Biographical Information
Richard S. Jaffe is the Senior Partner of the Birmingham, Alabama law firm of Jaffe & Drennan, P.C. The firm concentrates in the area of criminal defense and personal injury, with Mr. Jaffe specializing in the areas of white collar criminal defense and criminal litigation in the federal and state courts. He has been certified as a Criminal Trial Specialist by The National Board of Trial Advocates (NBTA) since 1984. He is past president of the Alabama Criminal Defense Lawyers Association, and the founder of the Greater Birmingham Criminal Defense Lawyer's Association. Best lawyers of America named Mr. Jaffe "Lawyer of the year" in non-white-collar criminal defense in Birmingham for 2010 and "Lawyer of the year" in white-collar criminal defense for Birmingham for 2013. In 2012 Super Lawyers listed him among the top 50 lawyers in Alabama. Mr. Jaffe is a sought after speaker to organizations and trains lawyers on trial strategies and communication skills throughout the United Sates. He is serving his 3rd term as a Board Director for the National Association of Criminal Defense Lawyers (NACDL). He is the author of "Quest for Justice; Defending the Damned."
Mr. Jaffe has handled over sixty capital cases, including 5 federal death penalty cases. Only one of his clients has ever received the death penalty and only a small number are serving life sentences. His acquittal rate is among the highest in the country. He is the only attorney in the nation who has successfully defended three death row inmates at new trials after they had previously been sentenced to death. He and his firm have participated in numerous other acquittals of individuals facing serious punishment, both at trial and on appeal. In addition, Mr. Jaffe has successfully represented many individuals and corporations facing significant sentences for violations of Federal Criminal Offenses.
Mr. Jaffe began his career as an Assistant Attorney General for the State of Alabama, then served as a Deputy District Attorney, before entering the private practice of law in 1978.
Mr. Jaffe has been board certified by the National Board of Trial Advocacy as a Criminal Trial Specialist since January 31, 1984. (Copyright 2006 by Woodward/White, Inc., of Aiken, S.C.). He is currently listed in both Super Lawyers and Best Lawyers in America.
Mr. Jaffe has served on the board of directors for the National Association of Criminal Defense Lawyers for over 6 years. He is licensed to practice law in New York, Georgia, D.C. and Alabama. He is a sought after speaker at litigation conferences throughout the United States.
In 1994, the Alabama Bar Association awarded him the prestigious Clarence Darrow Award for the contributions he has made in defending indigent people charged with criminal offenses. The Roderick Beddow Award, the Alabama Criminal Defense Lawyer Association's most prestigious award for service in the criminal defense field, was presented to Mr. Jaffe in the summer of 2002. It is awarded "in recognition of a lifetime achievement in the practice of criminal law."
Mr. Jaffe served as president of the Alabama Criminal Defense Lawyer's Association, and is a founder and past-president of the Greater Birmingham Criminal Defense Lawyer's Association. He taught "Evidence" at the minority Miles Law School in Birmingham, Alabama for eight years.
Mr. Jaffe has published many articles and papers in connection with the training of attorneys. His February 2001 article in the Champion magazine was repeatedly cited in the Cornell Law Journal in a definitive study on jury selection in capital cases. It has been reprinted by several organizations that train trial lawyers.
Mr. Jaffe is frequently called upon to comment on death penalty issues and other areas of criminal law by television, radio and print media. He has been the subject of numerous stories reporting his successes in the death penalty area. One recent television story led with the byline, "Birmingham's Matlock."
Areas of Practice
Criminal Defense
Federal Litigation
Personal Injury
White Collar Crime
Litigation Percentage
90% of Practice Devoted to Litigation
Admission Dates & Jurisdictions
Alabama, 1976
New York, 1982
District of Columbia, 1983
Georgia, 1984
Education
The University of Alabama School of Law, Tuscaloosa, Alabama – 1976

Honors: Honors Finalist Moot Court Competition
Honors: National Moot Court Team
Professional Experience
Jaffe, Burton & Digiorgio, Senior Partner, 1980 – 1993
Walker, Jaffe & Burton, PC, 1979 – 1980
Richard S. Jaffe, PC, 1978 – 1979
Deputy District Attorney of Tuscaloosa County, 1977 – 1978
State of Alabama, Assistant Attorney General, 1976 – 1977
Honors & Awards
AV Peer Review Rating Martindale Hubble, 1986 – Present
ACDLA Roderick Beddow Award for Lifetime Achievement in Criminal Defense, 2001
Alabama Bar Association Clarence Darrow Award for Contributions to Indigent Defense, 1996
ACDLA President Award, 2010
ACDLA President Award, 2009
ACDLA President Award, 2008
ACDLA President Award, 2007
Best Lawyers of America -White Collar and Non-white Collar, Criminal defense, 2007 – 2014
Super Lawyers, 2008 – 2012
Best Lawyers of America "Lawyer of The Year" (Birmingham) Non-white Collar, 2010
Birmingham Magazines Top Birmingham Lawyers , 2008 – 2013
Super Lawyers- Top 50 lawyers in Alabama, 2013
Best Lawyers of America – "Lawyer of the Year" White Collar Birmingham 2012
Professional Associations
American College of Trial Lawyers, Member, 2013 – Present
National Association Criminal Defense Lawyers (NACDL), Member, 1981 – Present
Supreme Court of Alabama Warrant and Indictment Committee, 2007 – Present
NACDL, Board of Directors, 2003 – Present
NACDL, Executive Committee, 2009
NACDL, Vice-Chair, Death Penalty Committee, 2004 – 2008
NACDL, Co-Chair, Death Penalty Committee, 2010 – Present
Alabama Bar Association, Chair, Criminal Justice Committee, 2005
Jefferson County, Chairman, Criminal Justice Committee, 2001 – 2005
Alabama Criminal Defense Lawyers (ACDLA), Member, 1980 – Present
Supreme Court of Alabama Rules of Criminal Procedure, Member, 1994 – 2006
ACDLA, President, 1991 – 1992
Greater Birmingham Criminal Defense Lawyers Association (GBCDLA), President, 1995
Greater Birmingham Criminal Defense Lawyers Association, Founder, 1992
American Association for Justice (AAJ), Member, 1981 – 1994
NACDL Board of Directors- serving 3rd 3 year term
Representative Cases
Former Lead Counsel, USA v. Eric Rudolph
USA v. Price
USA v. Kelley
USA v. Holley
State of Alabama v. Drinkard
State of Alabama v. Padgett
State of Alabama v. Cochran
State of Alabama v. Ford
State of Alabama v. Gratton
Co-Counsel, Birmingham Mayor Bernard Kincaid (2008)
Speaking Engagements
Classes/Seminars
Former Faculty Member, Clarence Darrow Death Penalty College
Former Faculty Member, Santa Clara Death Penalty College
Former Faculty Member, Miles Law School
Lectures at seminars and conferences throughout the United States
Publications
Quest For Justice; Defending the Damned, www.questforjusticethebook.com, 2009
Defending DUI Vehicular Homicide Cases, Inside the Minds; "Proven Strategies for Complex DUI Vehicular Homicide Cases" Chapter Written by Richard Jaffe, Aspatore, 2011
The Colorado Method of Jury Selection, NACDL, Las Vegas, Nevada, 2009
Opening Statements, Alabama Criminal Defense Lawyers, Pensacola Florida, 2009
Winning Trial Themes from Voire Dire Through Jury Instructions, Arkansas Criminal Defense Lawyers, 2009
Jury Selection in Death Penalty Cases, Making the Case for Life, NACDL and Southern Center for Human Rights, 2008
Brainstorming and Coordinating the Themes and Theories for Life, Capital Defense – The Punishment Phase, The Center for American and International Law, Piano, Texas, 2007
Using Experts – Sinking or Swimming, NACDL, Key West, Florida, 2007
Twelve Principals of Capital Litigation, Louisiana Association of Criminal Defense Lawyers, 2007
Ten Principals for Individual or Small Group Panel Individualized Voir Dire on Death Penalty, Capital Defense Training, Center for American and International Law, Piano, Texas, 2006
Attacking the State's Aggravation Case: Cross Examining The State's Aggravation Witnesses, Clarence Darrow Death Penalty College, De Paul University College of Law, 2006
Obtaining The Necessary Funds to Save a Life – Primer, The Brian R. Shechmeister Death Penalty College, Santa Clara University School of Law, 2006
Power Themes to Winning, Tennessee Trial College, 2006
Themes of Life – Helping The Jury Choose Life by Telling the Clients Story, California Attorneys for Criminal Justice (CACJ), 2004
The Insanity Defense and Diminished Capacity, The Champion (NACDL) 1986, The Champion, Trial Magazine (AAJ), 1995
Ten Principles for Individual Voir Dire in Death Penalty Cases, The Champion, NACDL, 2001