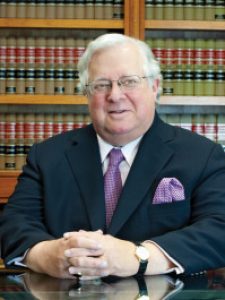 Russ M. Herman
Herman, Herman & Katz, L.L.C. 820 O'Keefe Avenue New Orleans, LA 70113 Practice Area(s): Class Action / Mass Tort Litigation visit website
Biographical Information
RUSS HERMAN is a Senior Partner in the firm of Herman Herman, & Katz LLP of New Orleans, Louisiana. He graduated from Tulane University with a B.A. Degree and L.L.B. in 1966. In 1977, he was chosen "Outstanding Trial Lawyer" by the Louisiana Trial Lawyers Association, and was LTLA President in 1980‑81.
He has authored over 200 articles, papers and books in various aspects of Civil Trial Practice and has been published in various works including Am Jur; Trials; Shepard's/McGraw Hill; The National Business Institute; Trial Magazine; The Forum; and Personal Injury Annual by Matthew Bender.
Mr. Herman has served on the faculty of the Practicing Law Institute – The National College of Trial Advocacy and has lectured at Tulane, L.S.U., Loyola, Georgetown, Hastings and other law schools.
Mr. Herman served as President of the (ATLA) Association of Trial Lawyers of America (1989-1990); President of the Civil Justice Foundation (1987‑1988); and President of the Roscoe Pound Foundation (1991‑1993). He is a Diplomate of the American Board of Professional Liability attorneys; a Diplomate of the National College of Advocacy, a Fellow and Director of the International Academy of Trial Lawyers, a member of the American Board of Trial Advocates (ABOTA),a Fellow of the International Society of Barristers, a Barrister of the American College of Barristers. In July of 2001, Mr. Herman was selected for The Leonard M. Ring Champion of Justice Award, which is the highest honor bestowed by ATLA. He has also received the ATLA Lifetime Achievement Award (1999) and the Joe Tonahill Award (1998); Pursuit of Justice Award (American Bar Association Tort Trial & Insurance Practice Section (TIPS) 2005). The Federal Bar Association "Professionalism" Award (EDLA-2009).
Mr. Herman has been selected for listing by Naifeth and Smith in their book "Best Lawyers in America" in Personal Injury, Maritime, Complex Litigation and Appellate Trial Practice areas and has been listed continuously since inception.
He is the author and performer of ATLA's best selling, 6‑Volume Video Trial Practice Series, "Courtroom Persuasion: Art, Drama & Science" and a 443‑page book by the same title published by West Group, Clark Boardman Thomson and and is the author for West Group's two‑volume series Louisiana Personal Injury.
The National Law Journal named Mr. Herman as one of Louisiana's top ten litigators and the American Law Journal highlighted Mr. Herman in its June 1999 issue. Fortune Magazine featured his litigation accomplishments in the July 3, 2000, issue.
In April 2003, the Third Edition of Chamber's USA "America's Leading Business Lawyers" (2003‑2004) listed Mr. Herman as the leading individual trial lawyer in Louisiana in General and Commercial Litigation and he has been listed in the top tier lawyers continuously. Peer comments from 2004 through 2013 have described him thus:
2004 – "Extraordinarily talented" Russ Herman – was singled out for his trial skills";
2005 – "Russ Herman's "tenacity personified" in the eyes of commentators";
2006 – "Is phenomenal in Court" which sees him involved in a great deal of national litigation cases";
2007 – "Hugely amicable personality before juries. A "star" both at the Bar and in his firm".

Best Lawyers In America

continuously since 1st publication in 1983 – "Personal Injury"; "Maritime"; "Complex Litigation"; and "Appellate Practice";
2009 – "As tenacious as a Bulldog"; "Smart and Highly Able".
2011-2013 – "one of the premium attorneys for mass tort actions" and "a formidable opponent".
In 2004, a jury returned a $591,000,000 verdict in Scott v American Tobacco, et al. (96-8461, Orleans Parish, Civil District Court). Mr. Herman was lead trial counsel in this case. Mr. Herman is Court Appointed: Liaison and Lead Counsel in In Re: Propulsid: MDL 1355 case; Liaison Counsel and Member of PSC Executive Committee in In Re: Vioxx: MDL1657; Appointed as Liaison Counsel and Executive Committee In Re: Chinese Drywall: MDL 2047 . Mr. Herman as Liaison Counsel and lead negotiator, was successful in concluding a $4.85 billion dollar settlement with Merck. And thus far a $1.1 billion dollar resolution in Chinese dry wall.
Since 2005, Mr. Herman has been selected from over 15,000 nation-wide nominees as one of American's 500 Leading Lawyers and Jurists by "Lawdragon" publications and since 2005 , as one of America's Top 500 Litigators. From 2007 to date, he was selected by "The Legal 500″ as one of the 500 top litigators in the country. In December 2007, was selected by Lawyers' Weekly, USA as "Lawyer Of The Year". In 2008-2009 was selected as one of the "Top 100 Trial Lawyers" in the country by the American Trial Lawyers Association. In 2009, The Federal Bar Association (EDLA) selected Mr. Herman to receive the John R. Martzell "Professionalism" award. The selection committee was composed of Federal Judges and lawyers.
In November, 2009, Russ was named the Best Lawyers' 2010 New Orleans Personal Injury Litigator of the Year. In 2010, was named New Orleans Best Lawyers – "Appellate Lawyer of the Year".
Mr. Herman's most recent publication: Courtroom Persuasion II, Winning with Art, Drama and Science, 653pp was released by West Group on March 28, 2010.
On April 22 -23, 2010, Russ was honored at the Induction Ceremony of The National Trial Lawyer Hall of Fame during the Mass Torts Made Perfect Seminar at the Wynn Las Vegas Hotel.
In the Fall of 2011, Mr. Herman was appointed an Advisor to The New Orleans Health Authority.
In January 2012, was named "Best Lawyers" Appellate Lawyer of the Year. In November 2012, received the "Peoples Health Champion" Award.
On March 22, 2013, Russ was honored and Inducted into the initial Tulane University Law School Hall of Fame at the Westin Canal Place, New Orleans, La.
In August of 2013 the International Global Law Experts recognized Mr. Herman as the "Commercial Litigation Lawyer of the Year in Louisiana".
In June of 2014 the International Global Law Experts recognized Mr. Herman as the "Personal Injury Attorney" of the Year in Louisiana.
In 2014, Mr. Herman was again recognized in the 20th Edition of The Best Lawyers in America for the practice areas of Admiralty and Maritime Law, Appellate Practice, Mass Tort Litigation, Class Actions – Plaintiffs, Personal Injury Litigation.
On February 1, 2014, Mr. Herman was inducted in the "Hall of Fame" by CitiBusiness Leaders in Law.
In June 2014, Mr. Herman was selected by the New Orleans Bar Association to receive the "President's Award".
The National Law Journal on November 13, 2014, chose the firm of Herman Herman & Katz as one of: "The Top 50 Plaintiff Firms", in the USA.