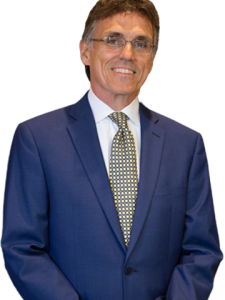 Tom Tuohy
Tuohy Law Offices 17W220 22nd Street Suite 300 Oakbrook Terrace, IL 60181 Practice Area(s): Trusts & Estates, Business Law call (312) 559-8400 email [email protected] visit website
Biographical Information
From 1984 to 1988, Tom Tuohy served as Special Assistant Attorney General of Illinois, founded Tuohy Law Offices in 1982.
In 1990 he established the Fraternal Order of Police Legal Benefits Plan and represented thousands of police officers, from rank and file to police superintendent.
Tom Tuohy founded Comprehensive Benefits of America, LLC (CBA) in 2015 and serves as CEO. CBA is in business to improve America's financial wellness by making financial planning and resources for building wealth accessible and affordable for everyone.
Tom has practiced law for 37 years, establishing Tuohy Law Offices on a foundation of service. His firm has served the legal needs of over 15,000 individuals while providing representation and educational seminars for municipal employees and union members. In addition, he has drafted and provided over 2,700 estate plans.
The attorneys affiliated with Tuohy Law Offices are a network of the highest-rated and most experienced national and local attorneys in the areas of Plaintiff Catastrophic Personal Injury, Malpractice, Products, and Premises Liability, Wrongful Death, and Workers Compensation, Sexual Abuse, Nursing Home Abuse and Neglect, commercial and residential Real Estate, Estate Law and Planning Techniques and Living Trusts, Business Organization and Dissolution of Marriage.
Tom Tuohy has been honored as one of a handful of attorneys in the United States to receive the highest (A/V) rating for legal ability and ethical standards as determined by Martindale Hubbell, which has provided such ratings for more than 138 years.
Tom Tuohy was sworn in and admitted to the United States Supreme Court Bar in 1990.
Tuohy founded the non-profit organization Dreams For Kids in 1989, creating social change through service learning in an award-winning leadership and social entrepreneurship curriculum for at-risk youth.
As a speaker, coach, and consultant, Tom shares the business, nonprofit and life experiences gained from 35 years of working with over 50,000 people of all ages and from every demographic.
Estate Planning; Business Succession; Middle-Class Benefits; Leadership; Nonprofit Management; Corporate Social Responsibility; At-Risk Youth; Social Entrepreneurship.
Admission Dates & Jurisdictions
Illinois 1982
United States Supreme Court 1990
Education
DePaul University
DePaul Law School
Kellogg School of Management at Northwestern University
Stanford Business School
Honors & Awards
1989 Emerald Society Man of the Year
2000 Illinois Crime Commission Citizen of the Year
2003 WGN Unsung Hero
2002 -2021 A/V Highest Possible Rating, Legal Ethics, and Standards
2014 Davenport Award, Guerin Prep
Professional Associations
Illinois State Bar Association
Verdicts & Settlements
Meeks v. State of Nebraska
Case Conclusion Date: 06.06.2014Practice Area: Wrongful Death

Outcome: $2,000,000 SettlementDescription: On June 6, 2013, Joyce Meeks was driving home from work on Van Dorn Street in Lincoln, Nebraska. A vehicle driven by Jeremy Dobbe crossed the center line, striking the Meeks vehicle at 70 mph and killing Joyce instantly. Dobbe was in prison, and was driving a vehicle owned by the Nebraska Department of Corrections as part of the Inmate Van Driver Program. This program allowed inmates of Nebraska prisons to drive state vehicles on public roads as part of a work detail assignment. Dobbe had two convictions for DUI, one in Colfax County in 1999 and one in Platt County in 2003, a conviction for Reckless Driving in Stanton County in 2001, a conviction for Willful Reckless Driving in Platt County in 2005, a conviction for Careless Driving in Colfax County in 2010, and a conviction for Possession of Marijuana in Platt County in 2000. Dobbe also had a felony conviction in Butler County for Possession of Methamphetamine with Intent to Deliver, a felony conviction for Terroristic Threats in Colfax County, and a misdemeanor conviction for criminal mischief in Colfax County. Despite this record of convictions, Dobbe was allowed by the State of Nebraska to drive a state-owned van on public streets to pick up other inmates at their respective work detail assignments. As a result of this case, Nebraska ended its Inmate Van Driver Program. *Co-counsel with Cavanagh Law Group
Representative Cases
Estate of Veronica Rizzo-Acevedo
Case Conclusion Date: 05.20.2015
Outcome: Slayers Statute applied to courts ruling of homicideDescription: Chicago Police Officer murdered by Cook County Sheriff husband. Required reconstruction of evidence at scene and proof of murder suicide
Speaking Engagements
Presentation Name
Conference
Date
 Actions
Asset Protection and Living Trusts
Pre Retirement
2020
Family Benefits
NOBLE Meeting
2019
Social Entrepreneurship
Changing the World
2015
Social Enterprise
ACA Business Club of Chicago Networking
2015
Estate Planning
Pre Retirement
2014
Your Contribution
Guerin Prep Commencement
2014
Living Trusts and Family Estate Planning
Pre Retirement Seminar
2013
Insurance Issues
NOBLE General Meeting
2013
Living Your Dreams
New Concepts Annual Windy City Event
2013
Social Entreprenuership
MoneyThink Leadership Institute
2013
Social Enterprise
Maverick Business Adventures Chicago
2013
Community Engagement
Dreams for Kids Day
2013
Asset Protection and Private Family Trusts
Chicago Police Department
2020
Associate Boards
Chicago Nonprofits Shark Tank
2013
Founders Stories
Chicago Nonprofit Volunteer Expo
2013
Moments of Our Lives
5th Annual Advancing Philanthropy Conference
2013
Preparing for the Future—A Frank Conversation
Woman in Law Enforcement Learn and Lead
2012
Estate Planning and Asset Protection
Retirement Seminar
2012
Estate Planning and Asset Protection
Retirement Seminar
2012
Estate Planning
Retirement Seminar
2012
Retirement Planning
NMRT Retirement Seminar
2012
Estate Planning
NMERT Retirement Seminar
2012
Insurance Coverage and Liability Protection
National Organization of Black Law Enforcement
2012
Estate Planning
Investments, Taxes, Estate Planning and more
2012
Replacing Charity with Opportunity
Do The Write Thing Awards
2012
Estate Planning and Asset Protection
CPD Retirement Seminar
2012
Estate Planning and Asset Protection
Retirement Seminar
2011
Dreams for Kids
Do The Write Thing Awards
2011
A Single Moment of Grace
TEDx LA
2010
Leaders of Today
ETudes for Innovation KIN Global Summit
2010