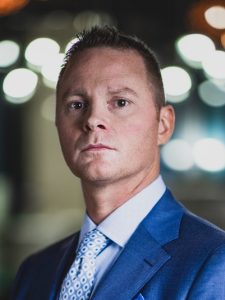 Brandon J. Henderson
Henderson, Mokhtari & Weatherly 1231 Superior Avenue E Cleveland, OH 44114 Practice Area(s): Criminal Defense - DUI / DWI, Personal Injury visit website
Biographical Information
Attorney Brandon Henderson is one of the most widely respected and trusted attorneys serving Cleveland and the surrounding communities. His experience extends across a wide range of criminal and civil cases, and has gained particular recognition in the areas of Criminal Defense, White Collar Crime and Federal Defense and hss more than a 20 years of legal experience behind him. He has been honored as a Top 100 Trial Lawyer by The National Trial Lawyers, voted Avvo Clients' Choice 2014 and 2015, Litigator of the Year for 2022, and numerous Client Satisfaction awards from the Institutions.
Mr. Hendereson is a graduate  of Case Western Reserve University where he received his Juris Doctorate and Ohio University. As a law student, he was involved in several different organizations, community outreach programs, and gained recognition as a trial advocate. He earned  his Bachelor's Degree in Accounting & Finance, graduating with honors. He holds memberships in several legal organizations the National College for DUI Defense, National Advocacy for DUI Defense, and The American Academy of Trial Lawyers – Premier 100 Trial Attorneys.
Admission Dates & Jurisdictions
Membership in the Ohio State Bar
Education
Case Western Reserve University, J.D. 2001
Ohio University, B.A. in Accounting & Finance, 1998
As a law student, he quickly became recognized as a formidable force in trial advocacy. He was team captain of the Jonathon  M. Ault Trial Team, bringing the team to the Regional Finals in the NITA National Trial Competition. Mr. Henderson achieved several scholarships and honors as a student, including the Ohio University Dean's Scholarship, Deloitte & Touche Accounting Scholarship, and was a member in the Golden Key National Honor Society, as one of the top 15% of his class.
Professional Experience
In addition to his continued commitment to community  outreach and representing those who are facing DUI/DWI charges, Mr. Henderson has received additional certification and training to augment his skill set. He has had certified training with the International Association of Chiefs of Police (ACP), National Highway Traffic Safety Administration (NHTSA), and DWI Detection and Standardized Field Sobriety.
Honors & Awards
National Advocacy for DUI Defense – Top 100 DUI Attorneys
Client Satisfaction from the American Institute of DUI/ DWI Attorneys for 2015- 10 Best
Membership in The National Trial Lawyers: Top 100 Trial Lawyers
The National Trial Lawyers: Top 40 Under 40
Avvo Clients' Choice 2014 & 2015 – Criminal Defense
Avvo Top Attorney in Criminal Defense- Rated 10.0 Superb
Professional Associations
The American Academy of Trial Attorneys – Premier 100 Trial Attorneys
Founding member of the DUI Defense Lawyers Association
National College for DUI Defense
National Advocacy for DUI Defense
Ohio Association of Criminal Defense Lawyers–Board of Directors
Order of Barristers – National Honor Recognizing Excellence in Trial Advocacy
Trial Lawyers of America
Criminal Trial Lawyers Association
Regional CLE Committee- Co-chair